Ukraine President Returns from Sick Leave
TEHRAN (Tasnim) - Ukraine's president, Viktor Yanukovich, returned from four days of "sick leave" to expected opposition calls for him to resign, as thousands of protesters remain on the streets across the country.
February, 03, 2014 - 17:27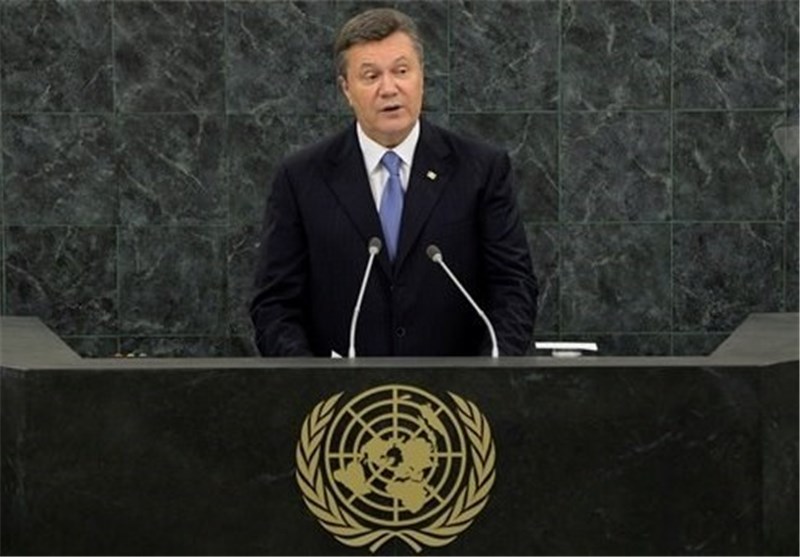 Yanukovich, who returned to office on Monday after recovering from what officials said was an "acute respiratory infection," has to choose between making further concession to the pro-EU protest movement which pitted Russia against the EU and the US.
Leonid Kozhara, Ukraine's foreign minister, told Al Jazeera on Saturday that the president was kept abreast of the situation in the country during his abscence. Yanukovich signed legislation, including the repeal of laws curbing rights to protest and conditional amnesty for dozens arrested during demonstrations, Al Jazeera reported.
Following talks with top western officials, including the US secretary of state, John Kerry, and EU foreign affairs head Catherine Ashton in Munich over the weekend, opposition leaders including Vitali Klitschko have urged the West to mediate in talks with Yanukovich.
Convening tens of thousands for a new rally at Kiev's barricaded tent city on Independence Square amid freezing temperatures on Sunday, the protest leaders also requested "real financial aid".
Former economy minister Arseniy Yatsenyuk, who turned down Yanukovich's proposal to serve as prime minister, said Western officials had assured him that funding was on its way.
"They are ready to do it," he told the crowd.
EU's Ashton told The Wall Street Journal newspaper in an interview published Sunday that Western countries were considering a financial package for Ukraine that "won't be small".
She said the plan would depend on the Ukrainian government's willingness to pursue economic and political reforms.
Yatsenyuk has said Ukraine, which is mired in deep economic trouble, needs a 'Marshall Plan' from the West, referring to the Cold-War initiative which saw the US help rebuild Europe after World War Two.
Russia has expressed fury over what it calls foreign interference in its Soviet-era satellite's domestic affairs.