Thai Central Bank Warns of Substantial Risk from Prolonged Unrest
TEHRAN (Tasnim) – Thailand's central bank warned of "substantially increased" risk to economic growth after the weekend disrupted general election did nothing to restore stability in the polarized country.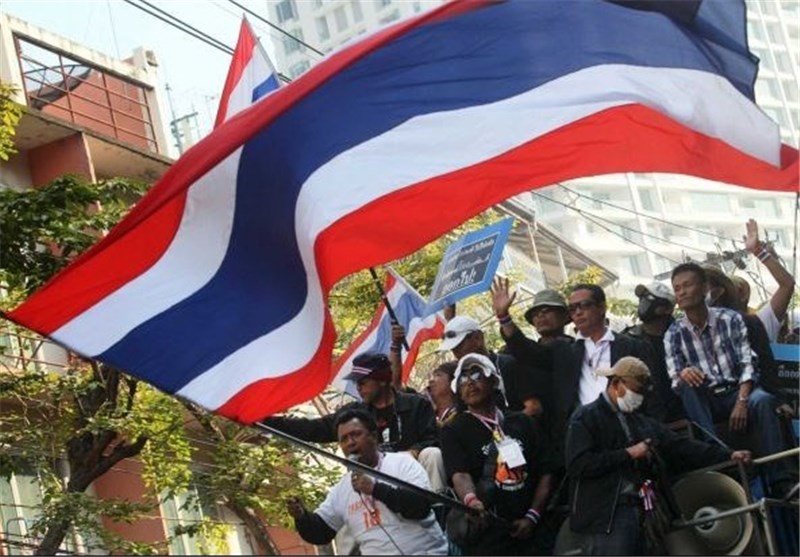 Protesters have been trying to topple Prime Minister Yingluck Shinawatra since November, prompting the government to announce a state of emergency ahead of Sunday's vote that was boycotted by the main opposition party.
The ballot and the emergency order are being challenged in the courts and there is no indication of how, or even if, an election winner can be announced.
The Bank of Thailand's Monetary Policy Committee (MPC) warned of the effect of a prolonged crisis on Southeast Asia's second-largest economy, which is heavily reliant on tourism.
The stock market has fallen more than 10 percent since the start of November, Reuters reported.
"The committee agreed that the downside risks to growth have increased substantially," the panel said, according to the minutes of a January meeting published on Wednesday.
"Growth impact could be more pronounced if a prolonged unrest were to cause a switch of export orders to other countries with a potential knock-on effects on domestic spending," it said.
The standoff, with bursts of violence in which 10 people have been killed, is the latest round of an eight-year dispute.
The dispute sees Bangkok's middle class, southern Thais and the royalist establishment pit against the mostly poor, rural supporters of Ms Yingluck and her brother, former Prime minister Thaksin Shinawatra.
Thaksin was ousted by the military in 2006.
Tourism is taking a hit, infrastructure spending has stalled and investors and consumers are uneasy.
At the meeting, the committee slashed its economic growth forecast for this year to around three percent from about four percent.
A week later, Central Bank Governor Prasarn Trairatvorakul said growth could be even lower than 3 percent because the unrest had affected consumption and investment.
Economic data released since the MPC meeting show continuing weakness.
Factory output in December fell 6.1 percent from a year earlier, and while exports that month were up 1.9 percent on an annual basis, central bank indexes for consumption and investment kept falling.