Larijani Underlines Importance of Unity among Islamist Groups
TEHRAN (Tasnim) – Iranian parliament speaker emphasized the necessity for solidarity and rapport among different Islamist groups given the current conditions in the region and in the world, and cautioned against the plots hatched by the enemies to sow discord among Muslim nations.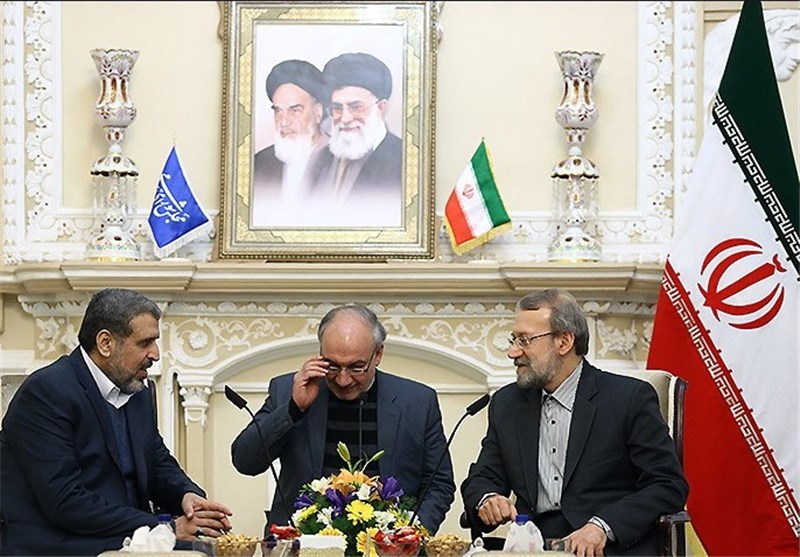 "At the current conditions, the Islamist groups and trends are in need of solidarity, alliance and unity more than ever," Ali Larijani said in a meeting with Secretary General of the Palestinian Islamic Jihad Movement Ramadan Abdullah, here in Tehran on Wednesday.
The speaker also warned against the arrogant powers' plots to create rift among Muslim nations, and explained that the vicious plots are aimed at undermining the Islamic resistance front in the region distracting attention from the cause of freedom of Palestine.
Larijani further pledged Iran's continued support for the Palestinian nation, and underlined, "Defending the oppressed people of Palestine against the Zionist regime's invasions and bullying is among (Iran's) basic and pivotal policies in any condition."
Praising the Palestinian nation's victory against Israel in the 8-day and 22-day wars, the Iranian speaker noted that the only way to restore the suppressed Palestinians' rights is "resistance and battle against the Zionist regime" of Israel.
Abdullah, for his part, expressed his gratitude to the Islamic Republic for the supports it has offered to the Palestinian nation, adding, "Iran has been always the main supporter of the Palestinian nation's cause."
In relevant remarks on January 19, Supreme Leader of the Islamic Revolution Ayatollah Seyed Ali Khamenei placed great emphasis on the issue of unity in the Islamic world in the present era, and warned that the enemies have zeroed in on sowing discord among the Muslim people.
"Today, unity is the most important issue in the Islamic world," Ayatollah Khamenei said at the time.
The Supreme Leader further said enemies of Islam are attempting to divert attention from the issue of Palestine, warning that the enemies aim to trigger civil wars in the Muslim countries, to aggravate rifts and to promote Takfiri and extremist beliefs in order to achieve their vicious purpose.