Rouhani Stresses Gov't Determination to Pursue Proactive Foreign Policy
TEHRAN (Tasnim) – Iranian President Hassan Rouhani said the country has opened new gate towards other nations, adding that Tehran has seriously pursued proactive foreign policy during the past few months.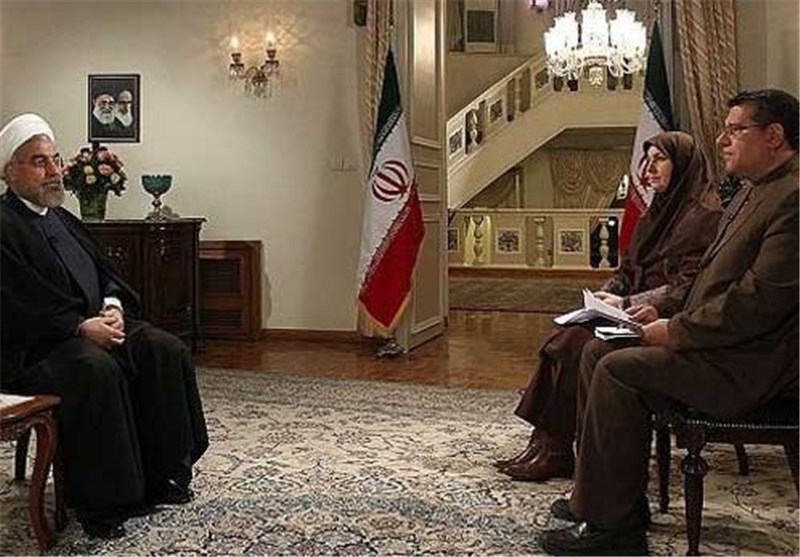 In a televised interview on Wednesday night, President Rouhani elaborated on his administration's domestic economic policies and its foreign policy, including nuclear talks between Iran and the six world powers.
As regards Iran's relations with the world, Rouhani stated, "Our relations with our neighbors are improving on a daily basis. We have talked in details almost with all our neighbors, and in some cases the conditions have called for the establishment of closer relations with some neighbors," said Rouhani.
"We had meetings with the heads of many of those countries. Turkmenistan, Azerbaijan and Armenia, among the others, and recently the Turkish prime minister visited Tehran. We have had detailed negotiations on economic relations and other issues," the president said.
Rouhani further stated that the Iraqi prime minister came to Tehran a while ago and had detailed talks, including on revival of Arvand Roud along Iran-Iraq borders.
"We also talked about the growing menace of dust particles at the areas along shared border and our bilateral relations with Iraq."
The president also referred to the relations with some southern littoral states of the Persian Gulf and the Sea of Oman, including the UAE and Oman, and their high ranking officials' visits of Tehran.
"In UN New York Headquarters I had a meeting with Pakistan's prime minister and he is interested in visiting Iran in a convenient future opportunity," he added.
The president of Afghanistan has visited Iran twice, and the two countries are planning for signing a long term agreement, he said, arguing that similarly, with the Russian president, as a major neighbor of the country, "we have had both phone talks and personal interactions on very important issues, and in the future, too, Iran-Russia relations will expand greatly."