In Standoff, Libyans Protest over Parliament Extension
TEHRAN (Tasnim) - Several thousand Libyans marched in Tripoli and Benghazi to demand the dissolution of the interim national parliament, whose mandate had originally been due to expire on Friday with the country deeply split over its future.
February, 08, 2014 - 11:56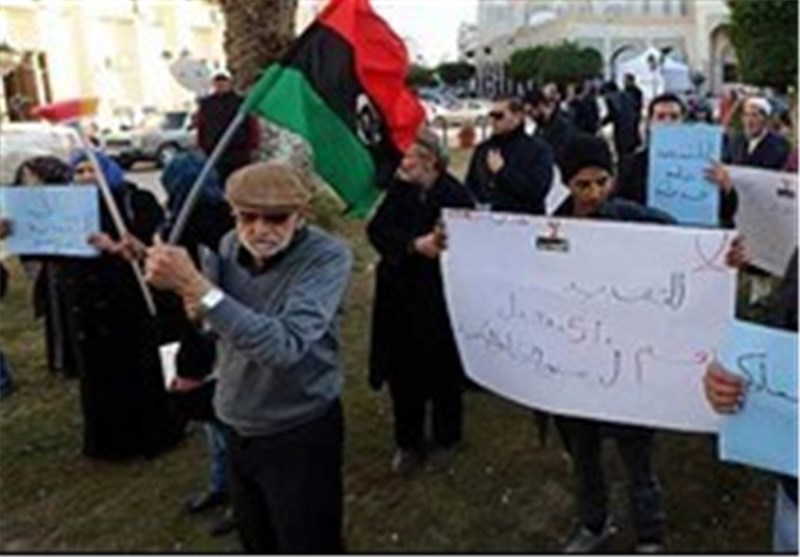 The parliament dispute has exposed Libya's continued fragility nearly three years after the fall of Muammar Gaddafi, with rival Islamist and nationalist parties, former rebels and regional tribes all pushing their own political visions.
Elected in 2012 and without popular backing, the General National Congress (GNC) was to end its term on February 7. But members extended its mandate to give a special assembly time to draft a new constitution, seen as a key to stability.
Waving Libyan flags and posters with "No to the extension", protesters filled Martyrs' Square in the capital and main square in the eastern city of Benghazi in peaceful rallies, Reuters reported.
The GNC is deadlocked between the nationalist National Forces Alliance (NFA) and the Justice and Construction Party (JCP), the political arm of the Muslim Brotherhood.
"It can't be any more chaotic or worse than it is now," said Afifa Ahmed, a human resources worker in Tripoli. "What has the GNC contributed to the country? Nothing."
Three GNC members, one from the NFA and two independents, said they had resigned on Friday in support of the protesters.
With Libya's democratic transition in crisis, its government weak and its army in training, brigades of former fighters who battled against Gaddafi have allied with competing political factions to become key power brokers.
Two rival former militia brigades - the Zintanis and the Misratans - are loosely aligned with the NFA and with the Islamist leadership respectively, increasing risks they may use military muscle to exert political pressure.
Militia in the east have blockaded ports and slashed oil exports, Libya's main revenue lifeline, and security remains fragile, highlighted by Prime Minister Ali Zeidan's own brief abduction by gunmen last October.