Speaker Renews Iran's Opposition to Nuclear Weapons
TEHRAN (Tasnim) – Iranian Parliament Speaker Ali Larijani said the West is well aware that Iran is not seeking nuclear weapons, adding that allegations against Iran are aimed at depriving the country of nuclear technology.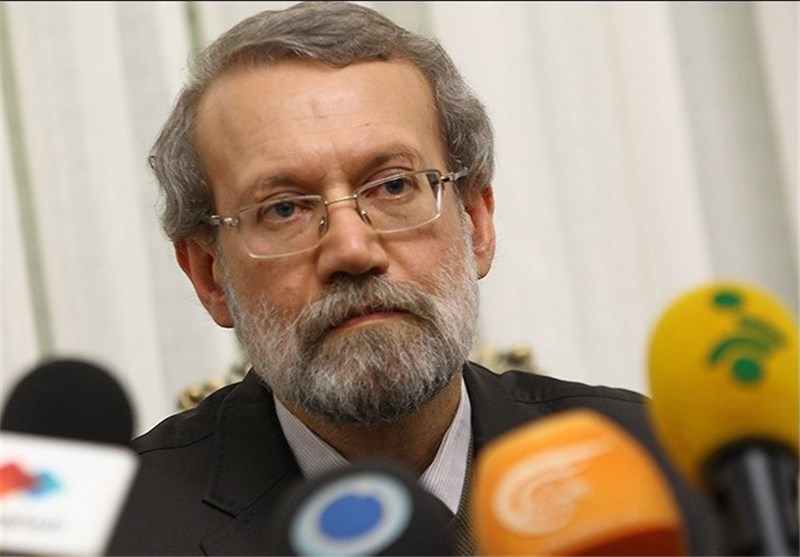 "The West knows well that Iran is not after nuclear arms, however, based on their self-made theory about globalization, they (westerners) intend to prevent Muslims from making any progress in different kinds of technologies," Larijani said Wednesday in a meeting with a group of Tunisian journalists in Tehran.
He said the main issue in the West's dispute over Iran's nuclear program is that some bullying powers frequently try to find excuses to prevent a Muslim nation from gaining peaceful nuclear know-how.
The US, Israel and some of their allies falsely claim that Iran is pursuing non-civilian objectives in its nuclear energy program, with Washington and the European Union using the unfounded claim as a pretext to impose illegal sanctions on Iran.
Tehran strongly rejects the allegation over its nuclear energy activities, maintaining that as a committed signatory to the Non-Proliferation Treaty (NPT) and a member of the IAEA, it has the right to use nuclear technology for peaceful purposes.
On November 24, Iran and the sextet of world powers known as G 5+1 (the five permanent UN Security Council members plus Germany) reached a six-month deal, know as Geneva agreement, on Iran's nuclear program.
The breakthrough deal, which has come into effect since January 20, stipulates that over the course of six months, Iran and the six countries will draw up a comprehensive nuclear deal which will lead to a lifting of the whole sanctions on Iran.
The two sides are due to begin a new round of talks later this month, aimed at working out a final agreement on Iran's peaceful nuclear program.
Elsewhere in his remarks, Larijani touched on the crisis in Syria, stressing that Damascus is paying for its position on the frontline of resistance against the Zionist aggressive policies.
He said only through dialogue between the conflicting parties can the crisis be resolved, stressing that "the Islamic Republic of Iran has believed right from the outset that the crisis in Syria does not have a military solution."
The Iranian parliament speaker noted that after nearly three years of violence, extremism and sending weapons and terrorism into Syria, the West has just come to the conclusion that there is no other effective path than dialogue (to end the crisis).
Syria has been the scene of deadly unrest since March 2011. According to figures released by the United Nations, more than 100,000 people have so far been killed and millions displaced due to the violence.
Negotiations intended to end Syria's civil war began with a week-long session in Geneva last month and have resumed this week in the Swiss city which hosts the UN's European headquarters.
There had been hopes for Tuesday's talks after they began with a minute's silence for the people killed since the conflict began.
But Lakhdar Brahimi, the UN-Arab League envoy, said the second round of "Geneva 2" so far was as "laborious" as the first. "We are not making much progress," he said.