Iran Supports Free Elections, Establishment of Security in Syria: Rouhani
TEHRAN (Tasnim) – Iranian President Hassan Rouhani stressed Iran's support for the establishment of security in Syria and free elections in the crisis-hit Arab country.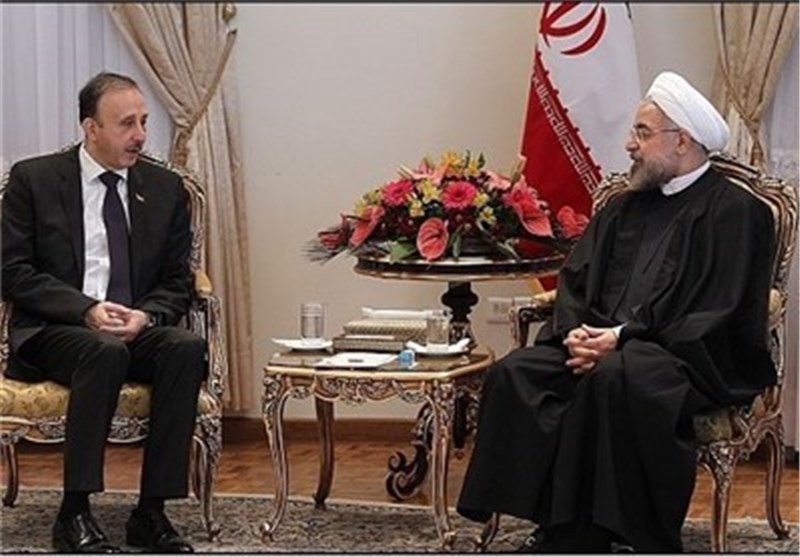 "It is very important for Iran that Syria will reach stability as soon as possible and gain the required preparedness for holding elections," Rouhani said in a meeting with Syria's Parliament Speaker Mohammad Jihad al-Laham on Tuesday.
The president also hailed the stances of Damascus in Geneva 2 peace talks on Syria and wished further successes for Syria on the path of establishing security and democracy.
The second round of talks between the delegations representing the Syrian government and the foreign-backed opposition in the Swiss city of Geneva ended on February 15 with both sides sticking to their positions.
The Syrian delegation said fighting terrorism should be the top priority while the so-called opposition insisted that the formation of a transitional government and resignation of President Bashar al-Assad must come first.
Damascus strongly rejects the demand, saying only the Syrian people can decide the issue.
During the meeting, Al-Laham conveyed the warm greetings of the Syrian government and people to President Rouhani and the Iranian nation.
He also praised Iran's proposal against violence and extremism, which was passed by the UN, and said it could have positive impact on confronting terrorism in the region and world.
On December 18, the UN General Assembly overwhelmingly voted to approve President Rouhani's WAVE proposal, which calls on all nations across the globe to denounce violence and extremism. The Iranian president made the proposal in his address to the UN Disarmament Conference in New York on September 25.
Under the resolution, the General Assembly would urge member states to take "appropriate measures to strengthen universal peace and to achieve international cooperation in solving international problems of an economic, social, cultural, or humanitarian character."