New European Ambassadors Meet Iran's President
TEHRAN (Tasnim) - New ambassadors of a number of east European countries held separate bilateral meetings with Iranian President Hassan Rouhani at the beginning of their tenure in Tehran.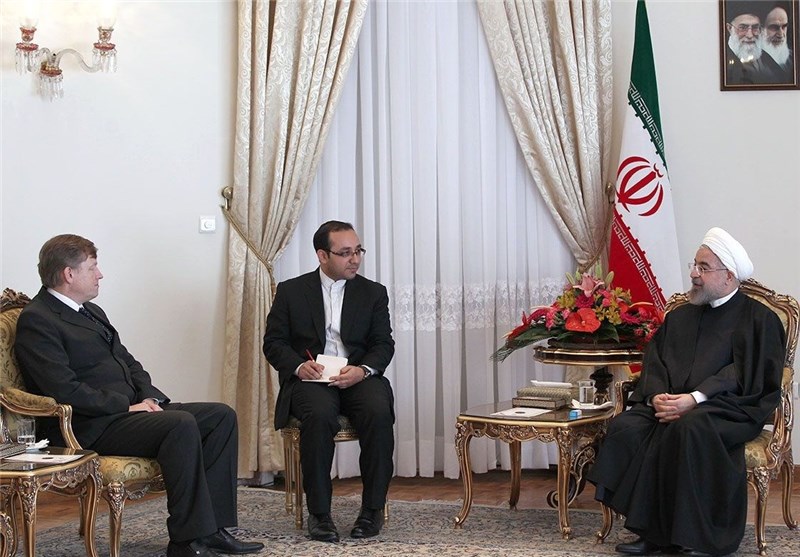 The recently-appointed ambassadors of Latvia, Slovenia and Albania met President Rouhani separately on Monday and submitted their credentials to the Iranian president.
In a meeting with the new Latvian ambassador to Tehran, Atis Sjanits, President Rouhani noted that Iran attaches great importance to its ties with the European Union (EU).
He added that bilateral relations between Iran and Europe should not be confined to trade and economy alone, but the two sides could enhance cooperation in cultural, regional and international arenas.
In another meeting with Albania's new accredited envoy to Iran, the Iranian president called for the expansion of Tehran-Tirana ties in different fields, including economic and cultural grounds.
The Albanian ambassador, for his part, submitted his credentials to Rouhani, saying he would put efforts into expanding ties between the two countries during his tenure in Tehran.
A third meeting on Monday also saw President Rouhani and the new Slovenian ambassador hold talks about Tehran- Ljubljana bilateral relations.
Rouhani said the grounds should be laid for the private sectors of the two countries to conduct their business.
He also voiced Tehran's readiness to increase its cooperation with the European country on the tourism industry.
The Slovenian ambassador, for his part, said there are ample opportunities for the two countries to increase their relations.
Relations between Iran and the European Union have improved in recent months after Tehran and the sextet of world powers signed an interim agreement on Iran's peaceful nuclear program on November 24, 2013.
Based on the interim deal signed in the Swiss city of Geneva between Iran and the Group 5+1 (the five permanent UN Security Council members plus Germany), the world powers agreed to suspend some non-essential sanctions and to impose no new nuclear-related bans in return for Tehran's decision to suspend its 20% enrichment for a period of six months.
The EU has already suspended some of the sanctions it had imposed on Iran.