Ambassador: US Seeking to Overthrow Venezuela's Gov't
TEHRAN (Tasnim) - Venezuela's ambassador to Iran revealed that the White House has hatched a series of vicious plots to destabilize the Latin American country, noting that Washington is seeking to topple Caracas government.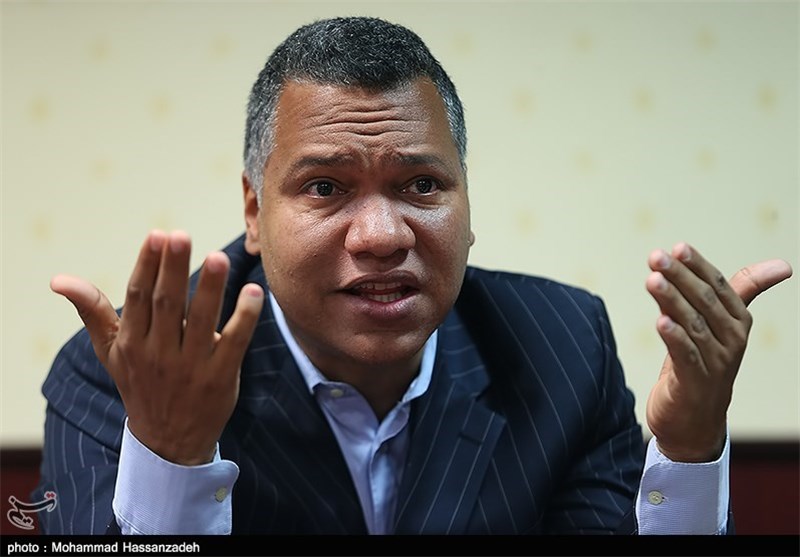 "Washington seeks to overthrow the Caracas government through (fomenting) instability and anarchism in Venezuela," Amenhotep Zambrano told the Tasnim News Agency on Tuesday.
He added that the Venezuelan government is doing its best to thwart the US plots, which are carried out by the Latin American country's opposition groups and anarchist rebels.
The diplomat reiterated that Venezuela will adhere to its anti-imperialistic policies, and noted that Washington's "brazen interference" in that country's internal affairs prompted Caracas to expel three US diplomats.
On February 16, Venezuela said it was expelling three US diplomats for allegedly meeting students who had been involved in violent marches in that country.
Caracas accused the expelled Americans of having links with violent groups which have incurred losses in the capital.
Elsewhere in his interview, Zambrano said the international media outlets are trying to portray a negative image of the unrest in Venezuela.
"Those media broadcast footages that either relate to the protests and demonstrations in the other parts of the world (and not Venezuela) or have occurred in the past."
Describing the late Venezuelan President Hugo Chavez as a popular figure in the Latin American nation, the ambassador announced that the western countries feel uneasy about the growing popularity of Chavez's principles and anti-US attitudes.
He further noted that the recent unrest in Venezuela has occurred only in a limited number of neighborhoods in capital Caracas, but made it clear that the government has called on people to remain calm and will never let the opposition to instigate chaos in the country.
The opposition wants to damage the government's legitimacy through violent actions, but the government was able to keep the situation under control, Zambrano explained.
He also expressed gratitude to the Islamic Republic for its support for the Venezuelan nation and government, saying Tehran's recent proclamation in support of Caracas signifies "Iran's anti-imperialistic morale".
Earlier on February 16, Iran's Foreign Ministry Spokeswoman Marziyeh Afkham underlined Tehran's support for the Venezuelan government, and condemned violent acts and vandalism of public property in the Latin American country.
She said Tehran backs the policies, views and the measures taken by the government of the Bolivarian Republic of Venezuela and its call for the promotion of peace, friendship, democracy and sustainable development in the Latin American country.
Referring to the recent developments in Venezuela, she condemned acts of violence, killing of innocent people, vandalism of public property and destabilizing moves.
Afkham reiterated Iran's support for Venezuelan government's efforts to establish security and peace in the country and set the ground for the welfare and prosperity of the Latin American country's people.