Obama to Putin: US Will Never Recognize Crimea Vote
TEHRAN (Tasnim) - The White House and leaders in Congress vowed Sunday to impose tough economic sanctions on Russia in hopes of stopping further aggression into Ukraine, following what they decried as a bogus referendum in Crimea.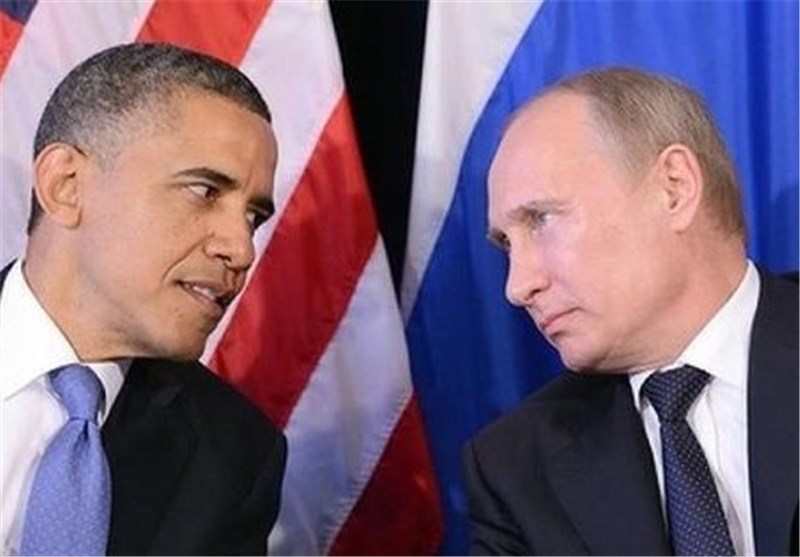 President Obama spoke with Russian President Vladimir Putin on Sunday afternoon, telling him the Crimean referendum would never be recognized by the United States and the international community.
Obama urged diplomacy, citing Ukraine's upcoming elections and constitutional reform as steps toward de-escalation, but said a diplomatic resolution isn't possible with Russian military in Ukrainian territory, USA Today reported.
"We reject the 'referendum' that took place today in the Crimean region of Ukraine," White House press secretary Jay Carney said. "This referendum is contrary to Ukraine's constitution, and the international community will not recognize the results of a poll administered under threats of violence and intimidation."
Carney said the administration is urging other nations to join in economic sanctions, which President Obama has threatened to impose. Key lawmakers in both political parties also urged passage of an aid package for Ukraine, possibly including military assistance.
"This referendum is in violation of international law. The United States is not going to recognize the results," said White House counselor Dan Pfeiffer on NBC's Meet the Press. "We are working with our partners around the world, the Europeans in particular, to marshal forces against the Russians."
The question will be whether European allies have the resolve to follow through on sanctions. Many of them are dependent on Russia for energy supplies.
The presidents of the European Council and European Commission issued a joint statement Sunday condemning the referendum but stopping short of promising concrete action. They said foreign ministers would "evaluate the situation" at a meeting in Brussels Monday "and decide on additional measures."
British Foreign Minister William Hague said at that meeting, "measures must be adopted that send a strong signal to Russia that this challenge to the sovereignty and territorial integrity of Ukraine will bring economic and political consequences."
The Senate Foreign Relations Committee approved a package of economic aid for Ukraine and sanctions against Russia last Wednesday, but Congress adjourned for a recess without completing action. Lawmakers aren't due to return until March 24.