Leader: Plots Underway to Sideline Issue of Palestine
TEHRAN (Tasnim) - Supreme Leader of the Islamic Revolution warned against the plots hatched by the global arrogant powers to make the issue of Palestine fade into insignificance.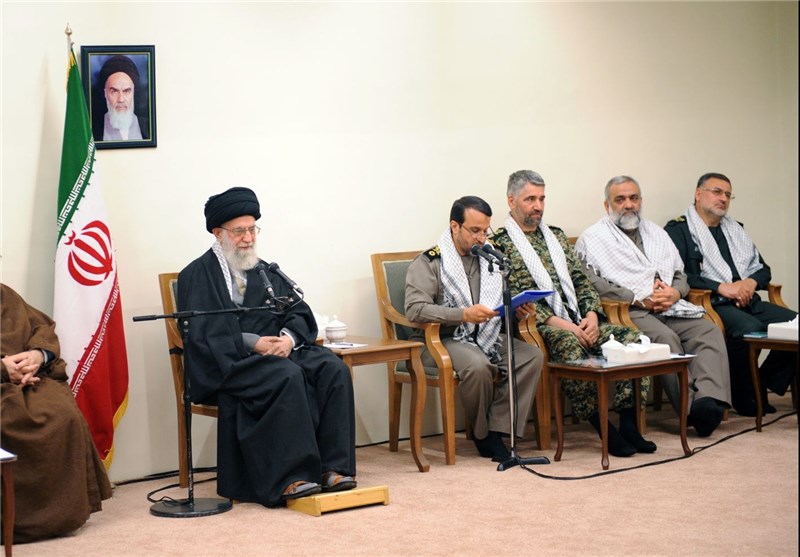 Ayatollah Seyed Ali Khamenei raised the issue on Monday, addressing a gathering of Iranian officials in charge of planning cultural excursions to the country's border areas that used to be war zones during the Iraqi imposed war on Iran in the 1980s.
During the meeting, the Supreme Leader cautioned against a series of ploys that aim to marginalize the issue of Palestine and make it seem unimportant.
The Leader, however, noted that all those plots have been effectively thwarted thanks to the efforts made by the late founder of the Islamic Revolution, Imam Khomeini, who "genuinely" publicized the problems that Palestinians have been suffering under the Zionist regime of Israel's pressures.
Ayatollah Khamenei explained that the global "hegemonic system" has resorted to plots to downplay the unprecedented event of displacement of local Palestinians from their homeland's cities and villages.
The Leader further warned that like the issue of Palestine, the arrogant powers are trying to marginalize the issue of Sacred Defense made by the Iranian people during eight years of Iraqi imposed war on the country in the 1980s.
"We should not allow the great event of Sacred Defense to be forgotten," the leader stressed.
Ayatollah Khamenei also underlined the significance of the Sacred Defense, saying that the Iranian defense against the Iraqi invasion is like a "great and glorious picture" with deep and wonderful aspects.
In Iran, the 1980-1988 Iran-Iraq war is known as the Sacred Defense, and Sacred Defense Week is held on the anniversary of the beginning of the war.
Sacred Defense Week begins on Shahrivar 31 in the Iranian calendar (September 22 this year), which is the day Iraq invaded Iran and began the imposed war on the country in 1980.