G77 Summit to Focus on Poverty, Sustainable Development
TEHRAN (Tasnim) – The Group of 77 (G77) plus China summit opened in the eastern Bolivian city of Santa Cruz Saturday night.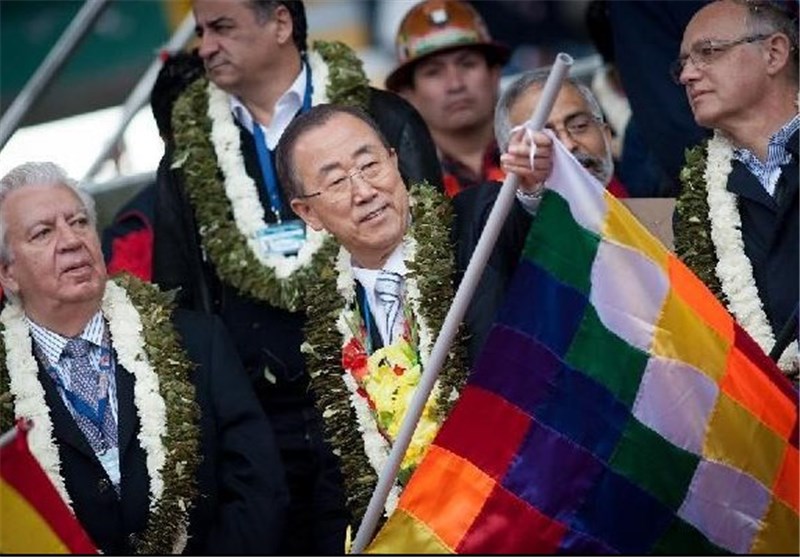 The two-day summit, under the theme of "New World Order for Living Well," is to discuss poverty eradication, climate change and the post-2015 sustainable development agenda.
This year's summit also marks the 50th anniversary of the establishment of the G77, now a coalition of more than 130 developing UN member states plus China.
"Over the years, this diverse group, which now represents well over half the global population and some two-thirds of United Nations member states, has enabled the global South to speak with a common voice," UN Secretary-General Ban Ki-moon said at the opening ceremony.
The UN chief said he counted on the G77 and China to bring fresh ideas, flexible and creative negotiating approaches, and practical and balanced proposals to overcome traditional North-South distinctions and deliver a transformative post-2015 development agenda, Xinhua reported.
"Acting together, member states can eradicate extreme poverty and provide opportunity for all within the finite bounds of our planet's resources," Ban said.
More than 100 delegations of the G77 block attended the summit, presided over by Bolivian President Evo Morales.
"We need to build a different view of Western capitalist development, moving from the sustainable development paradigm of Integral Development for Living Well, which seeks not only the balance between human beings, but also the balance and harmony with our Mother Earth," Morales said in his opening speech.
The G77, the largest intergovernmental organization of developing countries in the UN, is aimed at promoting collective economic interests and gaining leverage within the international community.