Several People Killed in Sri Lanka Mob Attacks
TEHRAN (Tasnim) - At least three people have been killed and more than 80 people injured in overnight mob attacks led by Sinhala Buddhist monks in two coastal Sri Lankan towns, according to medics.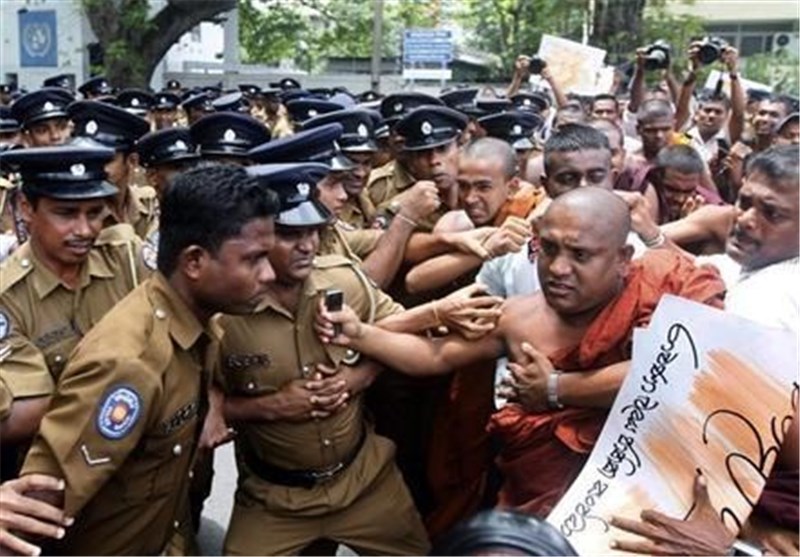 Sri Lanka's police on Monday extended a curfew across the popular resort towns of Aluthgama and Beruwala after Muslim properties and mosques came under attack, while violence also spread to Lathugana town.
Police said they fired tear gas and widened the curfew to Beruwala, a predominantly Muslim area, after initial violence broke out in Aluthgama, 60km south of the capital Colombo.
Hilmy Ahmed, the president of Muslim Council of Sri Lanka, told Al Jazeera that the situation was calmer now, but there was large-scale destruction of property.
"At least nine shops and up to 40 houses have been gutted in Aluthgama, while three mosques were attacked," Ahmed said over phone from southern Sri Lanka.
A police spokesman said trouble began on Sunday evening when a group led by Buddhist monks tried to march in an area with a sizeable population of Muslims.
"The curfew was extended to a neighbouring area to prevent an escalation of clashes," the spokesman said.
Those injured in the overnight clashes have been admitted to hospitals.