Syria's Assad Sworn In for Third Term
TEHRAN (Tasnim) - Bashar al-Assad has been sworn in for a third term as Syria's president in a ceremony in Damascus.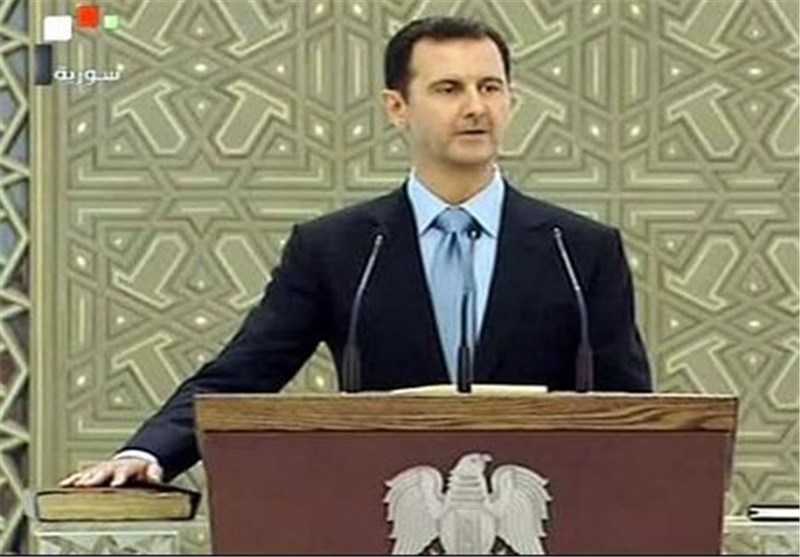 Assad on Wednesday swore by the Quran before parliamentarians in an extraordinary session, 40 months into a conflict estimated to have killed between 100,000 and 160,000 people.
"Syrians, three years and four months... have passed since some cried 'freedom'," he said, referring to the start of a March 2011 revolt that demanded his ouster.
"They wanted a revolution, but you have been the real revolutionaries. I congratulate you for your revolution and for your victory."
"Those who lost their way can now see clearly... the monstruous faces have been unveiled, the mask of freedom and the revolution has fallen."
Assad attacked his enemies in the West and in other Arab states, saying that the "Arab spring" - uprisings against established Arab leaders - had brought nothing but chaos.
"What we are seeing today in Iraq and Lebanon, and all countries struck by this 'fake spring' disease ... proves our warnings were right: Soon we will see Arab, regional and Western countries paying a high price for supporting terrorism."
Assad won a June 3 election held only in government-controlled territories by 88.7 percent, defeating two other candidates.