Thai Junta Leader to Meet King over Interim Constitution
TEHRAN (Tasnim) - Thailand's military leader, General Prayuth Chan-ocha, is due to meet the king on Tuesday to secure endorsement from the head of state for an interim constitution, the palace said.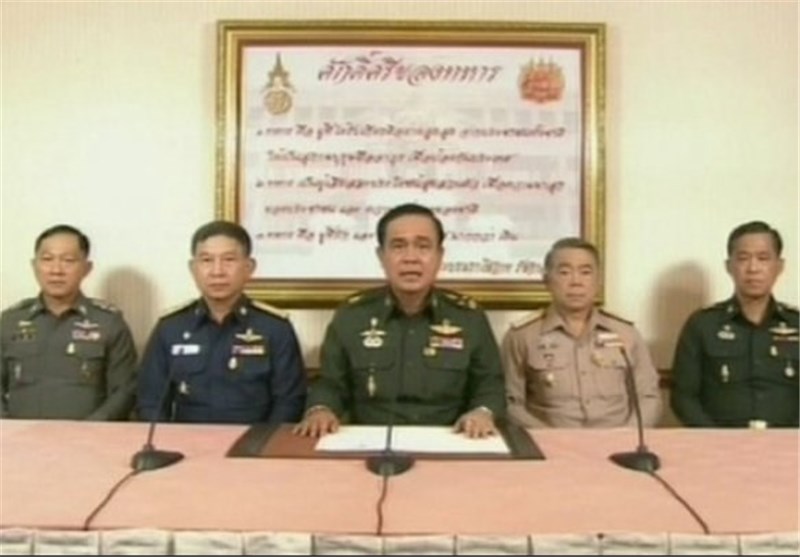 The military seized power on May 22 and tore up the old constitution. The interim charter will set out how the country will be governed in the run-up to a general election that the junta has said could be held towards the end of next year.
"His majesty the king will grant an audience to General Prayuth and will endorse an interim constitution," a senior official at the Bureau of the Royal Household told Reuters.
Prayuth will meet King Bhumibol Adulyadej, 86, in his palace in the seaside town of Hua Hin, south of Bangkok. The king spent almost four years in hospital in Bangkok before leaving for Hua Hin in August 2013.
Military sources said the interim constitution would set out the role of the National Council for Peace and Order (NCPO), the ruling military council, over the next few months, when it is expected to work alongside a civilian cabinet that it will appoint.
The interim charter may also give a clearer idea on when the general election will be held, one source said, declining to be identified because of the sensitivity of the matter.
The military said it took power to restore order after months of political unrest as protesters took to the streets of Bangkok in a bid to topple former Prime Minister Yingluck Shinawatra. At least 30 people were killed during the trouble.
Yingluck was forced to step down on May 7 after being found guilty of abuse of power by the Constitutional Court. The remainder of her cabinet was ousted in the coup two weeks later.