Turkish FM Davutoglu Set to Be New PM
TEHRAN (Tasnim) – Turkish president-elect Recep Tayyip Erdogan named Foreign Minister Ahmet Davutoglu as his future prime minister and said a power struggle with a US-based cleric, a Kurdish peace process and a new constitution would be his top priorities.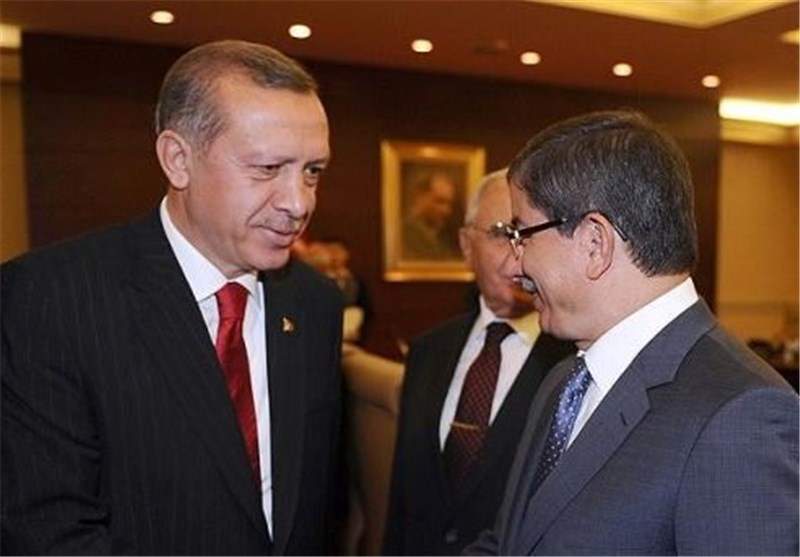 Erdogan said on Thursday the ruling AK Party's executive board had agreed to nominate Davutoglu as its next leader and, by default, his future premier. The decision must now be endorsed in a party vote next Wednesday, but is unlikely to be opposed.
"If delegates at the congress elect Davutoglu, then he will be the prime minister," Erdogan told a news conference.
Erdogan's victory in the country's first direct ballot for head of state on Aug. 10 marked a turning point for Turkey, taking the European Union candidate nation and NATO member a step closer to the presidential system he has long coveted, Reuters reported .
He has made no secret of his ambition to change the constitution and bolster the powers of the presidency, a move that opponents fear will herald an increasingly authoritarian rule.
"The new constitution is Turkey's primary concern. I know that Mr Davutoglu has a high sensitivity in this respect," Erdogan said after the AK board meeting.
He said Davutoglu's determination to battle the "parallel state", a term he uses for cleric Fethullah Gulen's network of followers, had been a key factor in his nomination.
Erdogan accuses Gulen's sympathizers of infiltrating institutions including the police and judiciary in an effort to seize the levers of state power, a struggle which has weighed on his final months as prime minister and seen him purge thousands of police officers and hundreds of judges and prosecutors.
His actions have raised concern about judicial independence and drawn criticism from the European Union.
"Be it the struggle against the parallel structure or the (Kurdish) peace process, do not doubt that I will be supporting Mr Davutoglu," Erdogan said.
The peace process with the Kurdistan Workers' Party (PKK) militant group, aimed at ending a three-decade insurgency, has been one of Erdogan's biggest achievements in recent years, with hostilities largely dying down since a March 2013 ceasefire.
Events in northern Iraq, where PKK fighters have rushed to the assistance of Kurdish peshmerga forces battling the advance of militants from the so-called Islamic State in Iraq and the Levant (ISIL), has given the process added urgency.