Iran, Kazakhstan Eye 5-Fold Rise in Trade Exchange
September, 09, 2014 - 18:05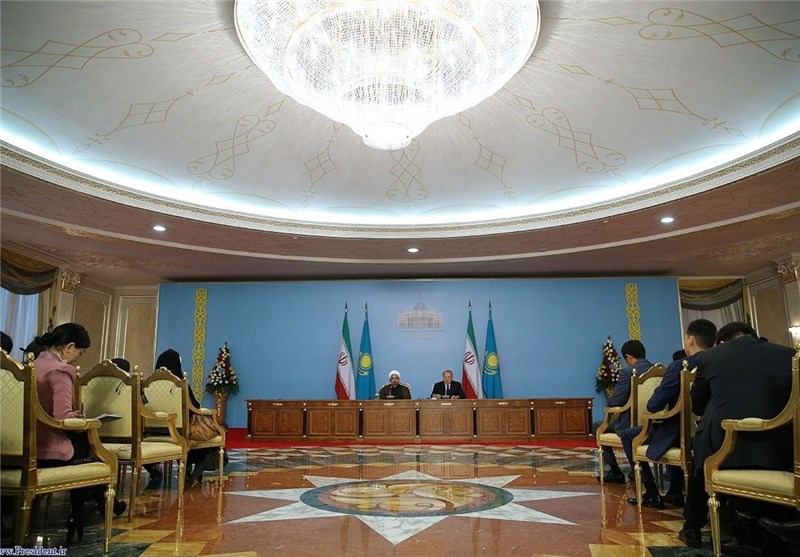 TEHRAN (Tasnim) – Presidents of Iran and Kazakhstan emphasized that the volume of trade exchange between Tehran and Astana should be increased to 5 times that of the current level.
Iranian President Hassan Rouhani and his Kazakh counterpart Nursultan Nazarbayev unveiled the plan at a joint press conference in Astana on Tuesday.
The hike in trade will take place following today's talks and the complementary decisions to be made by the two countries' ministers, the presidents said.
President Rouhani also noted that Iran is resolved to expand ties with Kazakhstan. He said the high-ranking economic delegation and a team of entrepreneurs from Iran's private sectors accompanying him in the visit to Astana is indicative of Iran's will for promoting ties with Kazakhstan.
Nazarbayev, for his part, referred to Iran as a "reliable partner for Kazakhstan in the region and in the Caspian Sea."
He further proposed the idea of establishment of Iran-Kazakhstan Trade House in a bid to broaden bilateral relations.
On Monday, President Rouhani arrived in Astana on the first leg of his Central Asia tour that will take him later to Tajikistan, where he will attend a summit meeting of the Shanghai Cooperation Organization (SCO).