Russian Warships Dock at Iran's Caspian Port
TEHRAN (Tasnim) – A Russian naval fleet, consisting of two missile-launching warships, berthed at the Iranian northern port city of Anzali on Monday to convey the message of peace and friendship.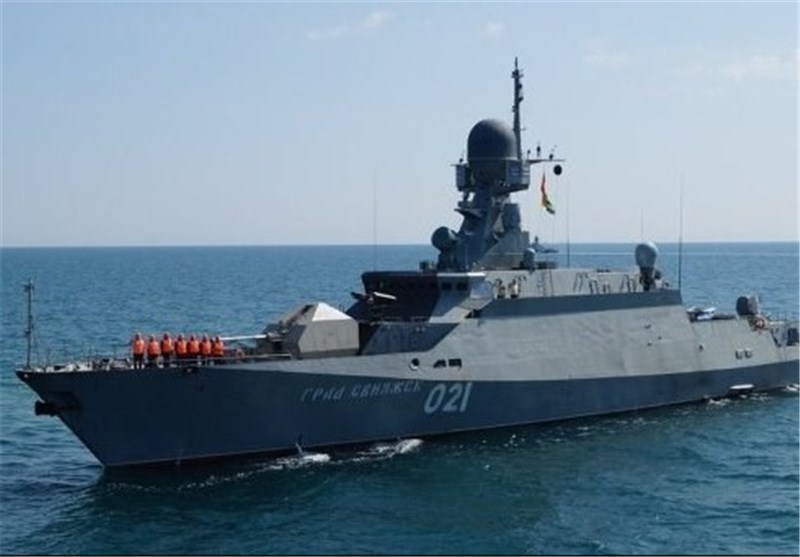 The Russian warships, namely Dagestan and Grad Sviyazhsk, made port call in Anzali, south of the Caspian Sea, on Monday morning. The fleet is planned to stay at the Iranian port until Wednesday.
Meanwhile, high-ranking commanders representing Iran and the Russian fleet held a meeting in Dagestan warship.
Commander of the visiting Russian fleet, Valeri Sprinov, said his country's Navy seeks to expand ties with Iran and raised the idea of a joint naval drill between the Iranian and Russian forces in the future.
"The main purpose of the Russian fleets' visit to Iran is peace and friendship," noted the Russian commander.
He also praised Iran's Navy as a "powerful and modern" force.
After the meeting, the Iranian commander also spoke to reporters, announcing that naval cooperation between Iran and Russia will expand in future.
Referring to the Caspian Sea as one of the world's safest water bodies, Abdolhossein Zafari noted that the five Caspian littoral states play a significant role in ensuring security of the lake.
In late September and during the 4th summit of the Caspian Sea littoral states in Russia's Astrakhan, Iranian President Hassan Rouhani underlined that peace and security in the water body will materialize if the littoral countries avoid entering into an arms race and using armed forces in the lake.
Rouhani had also insisted that only the five countries around the Caspian Sea (Iran, Russia, Azerbaijan, Kazakhstan and Turkmenistan) should be entitled to maritime activities, rejecting the presence of armed forces from other foreign countries in the sea.