Mexicans Occupy Police Academy to Protest Students' Kidnapping
TEHRAN (Tasnim) – Hundreds of people on Friday occupied the police academy in the southern Mexican state of Guerrero to protest the abduction and apparent murder of 43 students two months ago.
November, 29, 2014 - 17:54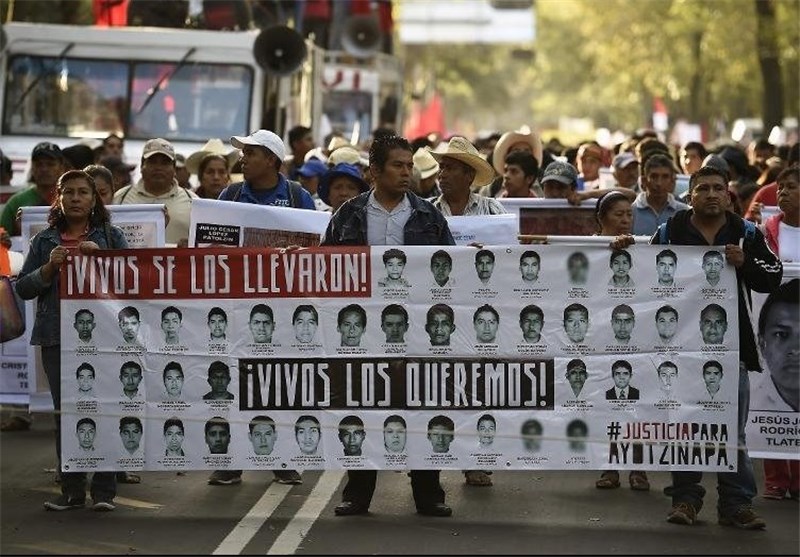 Demonstrators parked vehicles in front of the University Institute of Police Science to denounce the failure of the state police to aid the 43 students from Ayotzinapa teachers college who were abducted on Sept. 26 by municipal cops in the town of Iguala.
The institute overlooks the Autopista del Sol expressway, which links Mexico City with the Pacific resort of Acapulco.
Protesters painted the walls with slogans such as "We are all the 43" and "Peña murderer," referring to Mexican President Enrique Peña Nieto, Fox News reported.
The occupation extended to the Acapulco-bound lanes of the Autopista del Sol.
Since the disappearance of the 43 students at the hands of cops though to be acting in collusion with the Guerreros Unidos drug cartel, the Ayotzinapa families have been joined by members of the Guerrero teachers union and other supporters in protests across the state.
A number of public buildings have been set on fire, including Iguala city hall and the seat of the state legislature in Chilpancingo, Guerrero's capital.
Three reputed Guerreros Unidos members in custody say the 43 students were killed and their bodies burned.
The students' parents have refused to accept the suspects' account without definitive proof that the human remains recovered near Iguala are those of their missing loved ones.
The remains are being examined by specialists at a laboratory in Austria.