Putin: Missile Shield Deployment in Europe Threatens US Itself
TEHRAN (Tasnim) - Further deployment of America's global anti-ballistic missile defense poses a threat to the US and those European countries that agreed to host it, because it builds up a dangerous illusion of invincibility, President Vladimir Putin said.
December, 04, 2014 - 14:26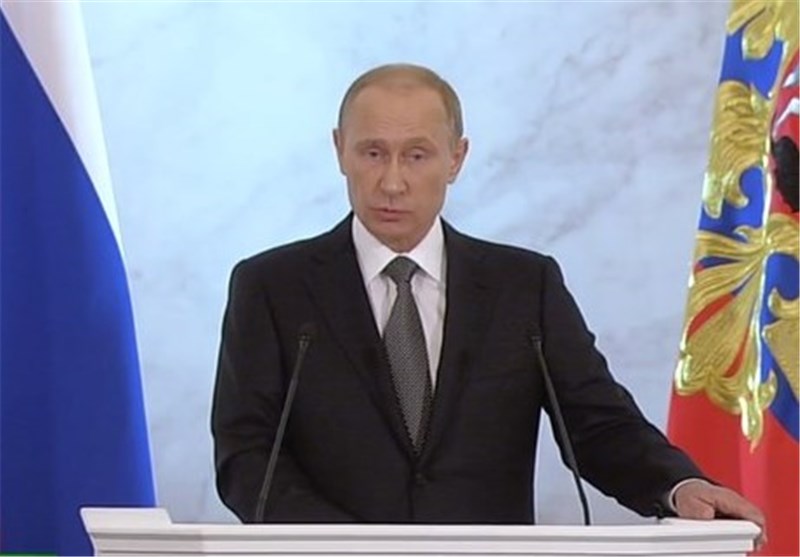 "This [ABM] constitutes a threat not only to the security of Russia, but to the whole world, in view of the possible destabilization of the strategic balance of powers. I believe this is dangerous for the US itself, as it creates a dangerous illusion of invulnerability and reinforces the tendency of unilateral, often ill-considered decisions and additional risks," Putin said in his annual state of the nation address to the Federal Assembly.
Russia will not get involved in an expensive arms race, the Russian president said, yet the country's defensive capacity in the new conditions will be securely guaranteed.
"There's no doubt about that – consider it done. Russia has both the capacity and creative decisions to do so," Putin said.
The European Phased Adaptive Approach, a centerpiece of the US missile defense shield in Europe, implies deployment of Arleigh Burke-class guided-missile destroyers, all of which are fitted with the Aegis weapon and radar system, interceptor batteries in Poland and Romania, radar in Turkey, and a command center at Ramstein, Germany, a US Air Force base.
Russia is considering the system to be a major threat to its own security and has threatened to increase its own arsenals and missile shield piercing capabilities in response, RT reported.
"Talking to Russia from a position of strength is meaningless," said Putin, stressing that 'deterrence policy' towards Russia is nothing new.
"The deterrence policy was not invented yesterday, it has been always conducted towards our country, for decades, if not centuries," Putin noted.
"Every time somebody considers Russia is becoming too powerful and independent, such instruments are turned on immediately," said Putin.