Unity Key to Iraq's Success: Iranian Speaker
December, 31, 2014 - 15:54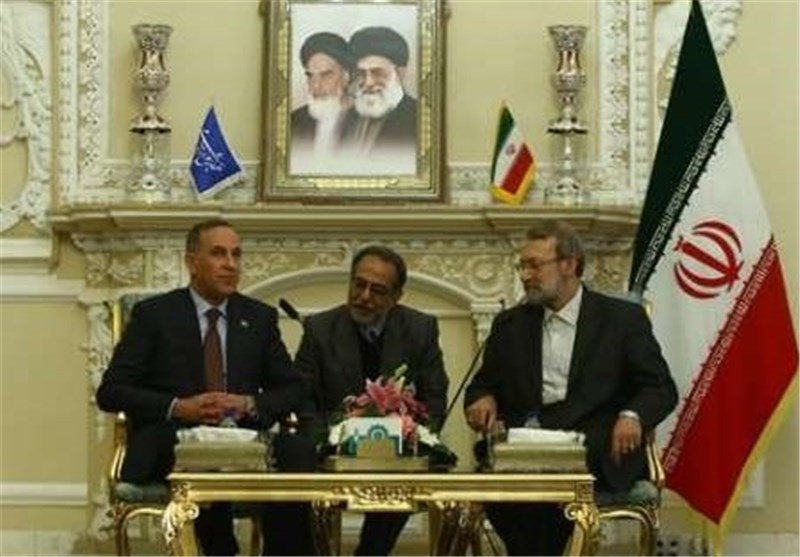 TEHRAN (Tasnim) – Iran's Parliament Speaker Ali Larijani said Iraq can successfully deal with the challenges it has been beset with, the threat of the ISIL terrorist group in particular, if the Iraqi groups join hands and maintain unity.
"Unity and rapport among the entire Iraqi ethnicities and groups would help overcome the problems and ease the way towards progress and development," Larijani said in a meeting with Iraqi Defense Minister Khalid al-Obeidi, held in Tehran on Wednesday.
The speaker also touched on Iran's help for the establishment of democracy and national unity government since the beginning of a new era in Iraq, and reaffirmed Tehran's commitment to assist the "Iraqi brothers" at the present time, when the Arab nation is reeling from the ISIL threat.
For his part, Obeidi expressed gratitude to Iran for its supports for the Iraqi nation and government in diverse fields, describing the assistance as a sign of strong bonds between the two Muslim neighbors.
Iraq has been facing the growing threat of terrorism, mainly posed by the ISIL terrorist group.
The ISIL militants made swift advances in much of northern and western Iraq over the summer, after capturing large swaths of northern Syria.
However, a combination of concentrated attacks by the Iraqi military and the popular forces, who rushed to take arms after top Iraqi cleric Ayatollah Ali al-Sistani issued a fatwa calling for fight against the militants, have blunted the edge of the ISIL offensive.
Amid tensions in Iraq, Iran is known as the first country to help the Arab country and has always voiced support for Iraq's solidarity and prosperity.