Leader Asks for Measures to Neutralize Anti-Iran Sanctions
TEHRAN (Tasnim) – Supreme Leader of the Islamic Revolution Ayatollah Seyed Ali Khamenei said the hopes should not be pinned on the enemy to remove the anti-Iran sanctions, stressing that the country should immunize itself against those limitations.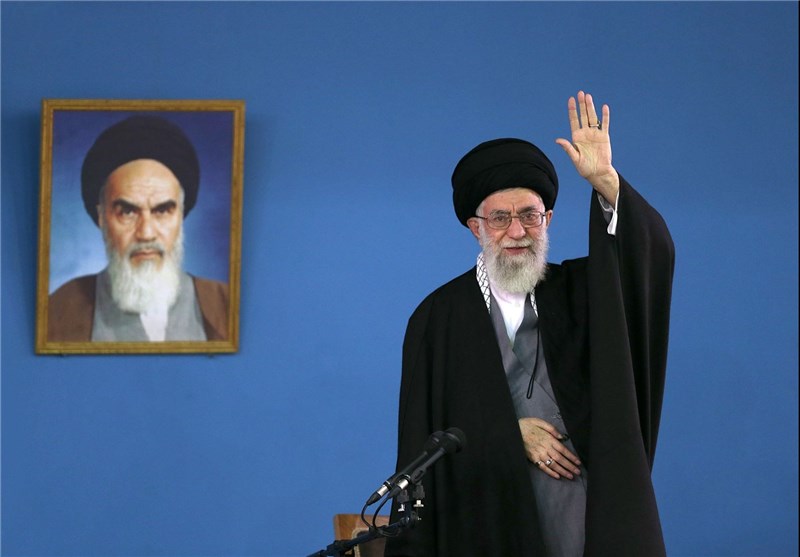 To make Iran immune from the impacts of sanctions is the only way to restrict the enemy's maneuvering power, Ayatollah Khamenei said in an address to a large group of people in Tehran on Wednesday.
The Leader said enemies will retain anti-Iran sanctions if the country relies only on their removal, making a reference to the "brazen" comments made by the US officials that say the sanctions will not be lifted entirely and all at once even if Iran caves in to pressures regarding its peaceful nuclear program.
Although sanctions have caused some problems in Iran, no Iranian official would ever agree to relinquish Islam, independence and scientific progress if the enemy makes sanctions relief conditional on the country's values and basics, the Leader asserted.
Ayatollah Khamenei renewed the call for reliance on the Iranian nation and the country's indigenous capabilities, reiterating that Iran should cut its dependence on the oil incomes.
Imam Khamenei then described "national unity" as the most important necessity in the current situation, and added, "Creation of division and polarity between people, under any title or with any justification, is against the national interests and ideals."
In December, Iranian President Hassan Rouhani said non-oil exports will boost in 2015 as part of efforts to decrease the country's dependence on oil revenues.
"We need to increase non-oil exports to make up for the decreases in oil revenues," Rouhani said, describing the sliding crude prices as a new opportunity for Iran to reduce dependence on oil revenues.
Rouhani made the comments in a speech during the parliamentary session before submitting the proposed budget bill for the coming year to the parliament.
The Iranian president also said controlling the inflation rate is the high priority in the proposed budget for the next fiscal year.
He predicted that the inflation rate would drop to below 20% by the end of the Iranian calendar year (March 20, 2015).
President Rouhani also said the proposed budget bill has been adjusted to meet the goals of the country's five-year development plan and the guidelines of the economy of resistance.