Anti-Austerity Syriza Sweeps Greece Parliamentary Poll
January, 26, 2015 - 10:11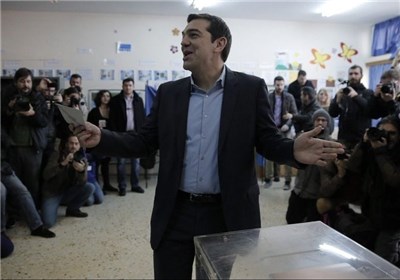 TEHRAN (Tasnim) - Syriza, a radical left party, swept to power in Greece promising to end years of painful austerity policies, in an election victory that puts the country on a collision course with the EU and international creditors.
In a result that exceeded analysts' expectations, Syriza and its 40-year-old leader Alexis Tsipras won 149 seats in the 300-seat Greek parliament, just two short of an absolute majority, with most of the votes counted on Sunday.
Antonis Samaras' New Democracy, the former party of government, was routed and reduced to around 76 seats.
Syriza, which says it does not want to leave the euro, will become the first anti-austerity party to take power in Europe and Tsipras will be Greece's youngest prime minister in 150 years.
Tsipras, a former Communist youth activist, told thousands of flag-waving supporters in Athens: "Greece is leaving behind disastrous austerity."
Tsipras repeated his pledge to renegotiate the terms of Greece's $269bn bailout with the EU and the International Monetary Fund, but struck a more conciliatory tone than during his fiery campaign, Al Jazeera reporetd.
"The new Greek government will be ready to cooperate and negotiate for the first time with our peers a just, mutually beneficial and viable solution," he said.
After its most severe crisis since the fall of its military government in 1974, Greece's economy has shrunk by some 25 percent, thousands of businesses have closed, wages and pensions have been reduced, and unemployment among young people is over 50 percent.
At the same time, its public debt has climbed from 146 percent of gross domestic product in 2010 to 175.5 percent last year, the second highest in the world.
Samaras, the outgoing prime minister, conceded defeat early on in the count and said he hoped the new government would not endanger the country's EU and euro membership.
"I hand over a country that is part of the EU and the euro. For the good of this country, I hope the next government will maintain what has been achieved," Samaras said in a brief address to reporters on Sunday after exit polls pointed to a victory for the left-wing Syriza party.