President Rouhani Urges Outright Removal of Anti-Iran Sanctions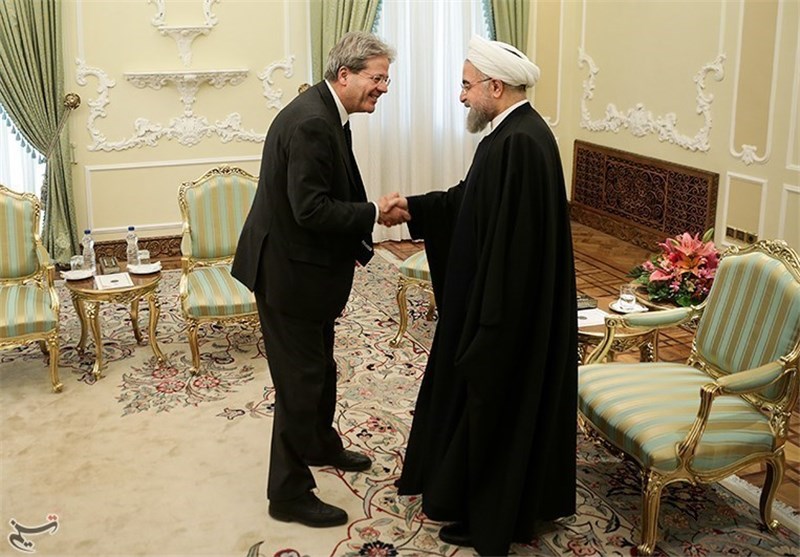 TEHRAN (Tasnim) – Iranian President Hassan Rouhani referred to "negotiation" as the only solution to Tehran's nuclear issue, saying that all anti-Iran sanctions must be lifted at once in the final nuclear deal.
Iran and the Group 5+1 (the five permanent UNSC members plus Germany) are in talks to hammer out a final agreement to end more than a decade of impasse over Tehran's nuclear energy program.
In a Sunday meeting with the visiting Italian Foreign Minister Paolo Gentiloni in Tehran, President Rouhani reiterated that any nuclear deal with world powers should include the outright removal of anti-Iran sanctions, adding that they have been imposed on "false bases".
Rouhani further reaffirmed Tehran's commitment to its obligations in nuclear talks, adding, "It is currently clear to everyone that Iran is a side who is completely serious in the talks."
Gentiloni, for his part, expressed the hope that nuclear negotiations would lead to a deal as soon as possible, saying that such a deal will be in the interests of Iran, Italy, and the whole world.
Removal of sanctions should be the first priority in the nuclear deal between Iran and the Group 5+1 (Russia, China, the US, Britain, France, and Germany), the Italian minister stressed.
In the most recent round of nuclear talks, Iran and US held bilateral and multilateral negotiations in the Swiss city of Geneva earlier in February to narrow down the remaining differences ahead of a deadline for a final agreement by July 1.
Diplomats from Iran and six world powers are going to hold a new round of on Tehran's peaceful nuclear program in Switzerland this week, with Iranian and US negotiators set to meet in Montreux on Monday.