Kazakhstan Keen to Boost Defense Ties with Iran: Navy Commander
TEHRAN (Tasnim) – Kazakhstan's Navy Commander General Zhandarbek Zhanzakov voiced his country's enthusiasm for expanding defense relations with Iran.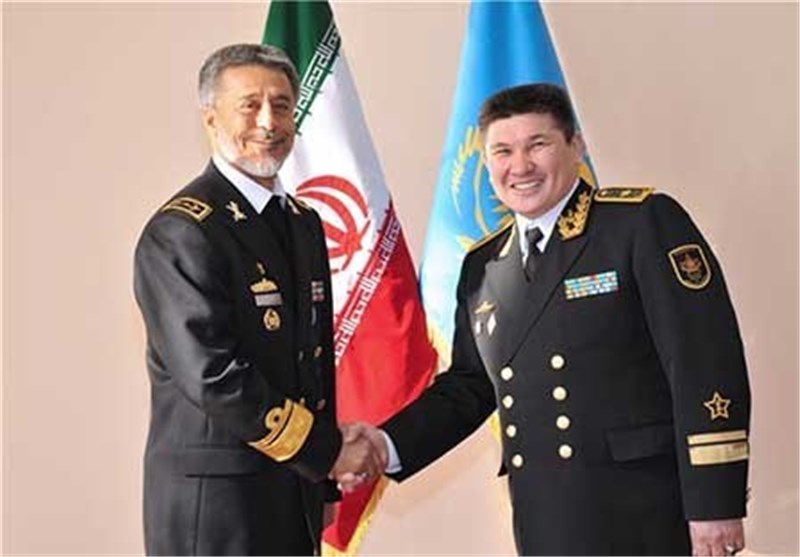 In a meeting with visiting Iranian Navy Commander Rear Admiral Habibollah Sayyari in Astana on Monday, the Kazakh commander said the two countries can promote naval cooperation in the Caspian Sea.
Cooperation between the two countries can include hydrography studies, countering environmental pollution, and holding joint rescue and relief exercises in the sea, Zhanzakov said.
The Iranian commander, for his part, emphasized the need for cooperation between the Caspian Sea littoral states to ensure security and prevent foreign interference in the region.
Sayyari also expressed Tehran's preparedness to cooperate with Astana on naval training, exchange of experience, reciprocal visits of naval fleets, and counter-terrorism in the Caspian Sea.
Heading a high-ranking delegation, Sayyari arrived in Astana on Sunday night at the invitation of his Kazakh counterpart.
Back in October 2013, General Zhanzakov paid an official visit to Tehran to sign a memorandum of understanding (MoU) on defense cooperation.
He also visited the key naval academy of Iranian Army's Navy, Imam Khomeini University for Naval Sciences in Northern city of Noshahr.