Nemtsov Murder Suspect 'Confessed' Involvement
TEHRAN (Tasnim) - A Russian judge said one of the five suspects in the murder of opposition activist Boris Nemtsov had confessed to his involvement, as four others pleaded innocent in a Moscow court, state media reported.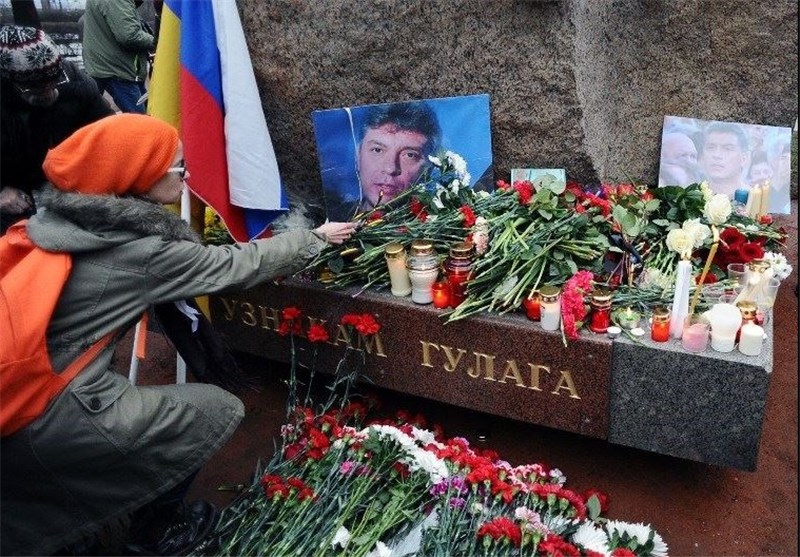 Judge Nataliya Mushnikova said on Sunday that Zaur Dadayev had signed a confession stating his involvement in the crime. She ordered his detention extended until April 28.
"The participation of Dadayev is confirmed by his confession," she told the court.
Earlier on Sunday, two men were charged with Nemtsov's murder as five suspects in the case appeared in court.
Dadayev and Anzor Gubashev, both of Chechen origin, were charged with "the murder of Boris Nemtsov and three others are still suspects", Anna Fadeyeva, spokeswoman for the court in central Moscow, told the RIA Novosti news agency.
Gubashev denied involvement in the murder. The three other suspects, who have not been charged, claimed they were innocent, however a representative for the investigation told the court there was "proof of their involvement".
Nemtsov was shot dead while walking on a bridge near the Kremlin on February 27.
Details remain vague in the case despite President Vladimir Putin's pledge to pursue the killers vigorously.
The number of suspects in the case on Sunday grew from two to five with the announcement of the detention of Gubashev's younger brother Shagid Gubashev, and Ramzan Bakhayev and Tamerlan Eskerkhanov.
State news agencies Tass and RIA Novosti said they were detained in Ingushetia, a republic bordering Chechnya, citing Ingush Security Council chief Albert Barakhoev.
Zaur Dadayev, served in a battalion of Interior Ministry troops in Chechnya, Barakhoev was quoted as saying.
He said Anzor Gubashev had worked in a private security company in Moscow, according to the reports.
Nemtsov's killing shocked Russia's already beleaguered and marginalised opposition supporters. Suspicion in the opposition is high that the killing was ordered by the Kremlin in retaliation for Nemtsov's adamant criticism of Putin.
The 55-year-old Nemtsov was working on a report about Russian military involvement in the eastern Ukraine conflict.