Nationwide Protests in Canada as Thousands Denounce New Anti-Terror Law
TEHRAN (Tasnim) - Thousands of demonstrators united across Canada to take action against proposed anti-terrorism legislation known as Bill C-51, which would expand the powers of police and the nation's spy agency, especially when it comes to detaining terror suspects.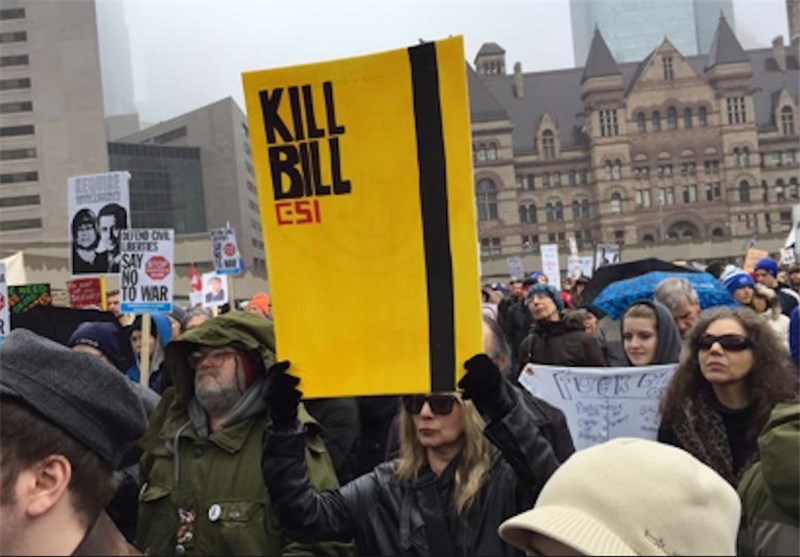 Organizers of the 'Day of Action' said that "over 70 communities" across Canada were planning to participate on Saturday, according to StopC51.ca.
The biggest gatherings were reported in Montreal, Toronto, Vancouver, Ottawa and Halifax.
"I'm really worried about democracy, this country is going in a really bad direction, [Prime Minister Stephen] Harper is taking it in a really bad direction," protester Stuart Basden from Toronto, the Canadian city which saw hundreds of people come out, told The Star.
"Freedom to speak out against the government is probably [in] jeopardy...even if you're just posting stuff online you could be targeted, so it's a really terrifying bill," Basden added.
The ruling Conservative government tabled the legislation back in January, arguing that the new law would improve the safety of Canadians, RT reported.
Demonstrators across the nation held signs and chanted against the bill, which they believe violates Canadian civil liberties and online privacy rights.
Protester Holley Kofluk told CBC News that the legislation "lacked specificity...it's just so much ambiguity, it leaves people open [and] vulnerable."
One of the protest organizers in Collingwood, Jim Pinkerton, shared with QMI Agency that he would like to see the Canadian government "start over with Bill C-51 with proper safeguards and real oversight."
"We need CSIS to be accountable. It's not OK for CSIS to act as the police, which is what's indicated in Bill C-51. We need accountability and Canadians deserve that," Pinkerton said.
The Day of Action is being backed by more than 30 civil liberties groups, including Amnesty International Canada, LeadNow, OpenMedia, Canadian Journalists for Free Expression, the Council for Canadians, and others.