5 PKK Militants Killed, 4 Soldiers Injured in Turkey
TEHRAN (Tasnim) - Turkish troops killed five Kurdish militants allegedly tied to the Kurdistan Workers Party (PKK) in the country's southeastern Agri region during clashes that also left four Turkish soldiers injured.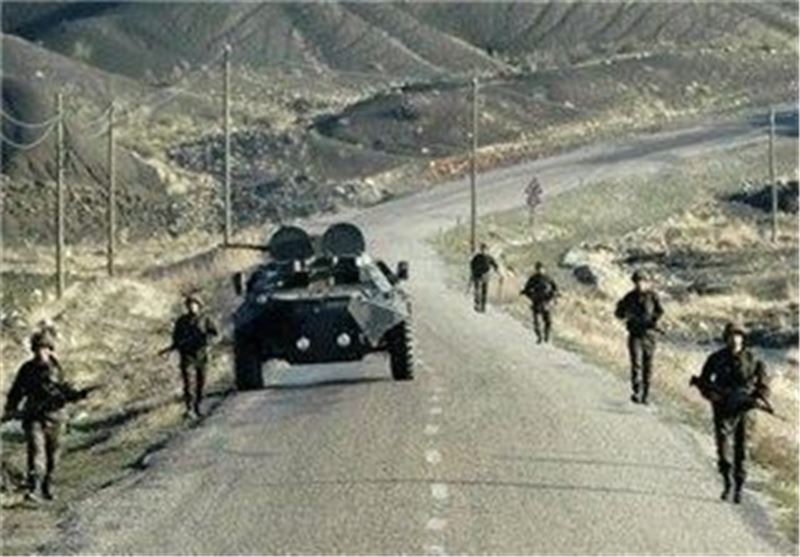 The incident took place on Saturday after Turkish troops were dispatched to the region's Diaydin district following intelligence reports about a planned "festival" to promote the militant group, said an army statement, according to an AFP report.
According to the statement, the Turkish army dispatched armed helicopters, reconnaissance jets and a commando unit to the region to confront over two dozen militants after being fired on by suspected PKK elements.
Announcing that four soldiers had been wounded, one critically, the statement further added, "On the other side, five terrorists were killed and one wounded was captured."
In a televised address in the western city of Sakarya on the Black Sea, Turkish President Recep Tayyip Erdogan blamed the PKK for the incident, saying that it was seeking "to dynamite the peace in our country and undermine the peace process."
The latest unrest marks an alarming surge in violence as Ankara is attempting to reach a peace deal with the PKK following a decades-long conflict that has left thousands of casualties.
Meanwhile, Selahattin Demirtas, the leader of the pro-Kurdish People's Democratic Party (HDP), which acts as an intermediary between the government and the PKK, described the armed confrontation as "a sad and worrying development."
He added in televised remarks that "a detailed investigation is needed to find out exactly what happened."
Demirtas further censured the army's action, saying the military should understand "it is the army of the country and not just of a single party," referring to the ruling Justice and Development Party (AKP).
Pro-Kurdish news outlets have disputed the government version of the incident, insisting that Turkish troops had launched an operation against a "tree planting event" led by local politicians.
The PKK's jailed leader, Abdullah Ocalan, called on militants this year to lay down their arms in what many view as a historic breakthrough in the peace process.
The PKK is considered a terrorist group by Turkey, the US, and the EU, Press TV reported.