Drones, Rockets Employed in 2nd Stage of Iranian Army's War Game
TEHRAN (Tasnim) – Iran's Army Ground Force successfully fired a number of rockets and flew Unmanned Aerial vehicles (UAVs) during the second stage of large-scale military exercises meant to enhance preparedness against proxy wars.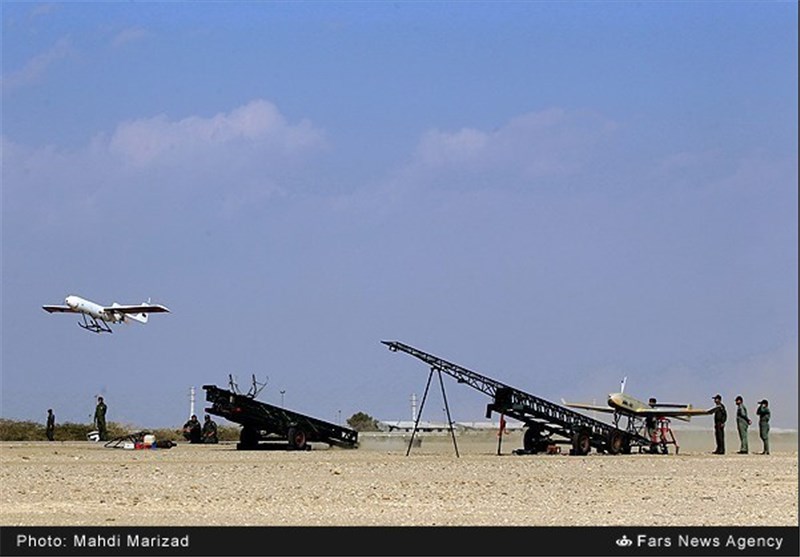 The war game, codenamed Beit ul-Muqaddas 27, began on May 21.
According to Army Ground Force Commander Brigadier General Ahmad Reza Pourdastan, the first stage of the drill was held in the Western province of Kermanshah, where the rapid reaction units conducted an operation against the hypothetical enemy.
The second stage, performed in the region of Aran and Bidgol in the central province of Isfahan, saw the homegrown Fajr-5 and Naze'at rockets being launched successfully.
Indigenous military drones were also employed on Saturday.
The final stage of the exercises will be held in Nasrabad region, Isfahan province, with the participation of infantry, armored and artillery units, Pourdastan said.
During the final phase, the commander noted, the Ground Force's airborne division and the Air Force fighter jets will detect and annihilate the mock enemy's positons.
Pourdastan announced earlier that the war game aims to evaluate the Ground Force's new equipment and practice and assess advanced tactics suitable for fighting proxy wars or a coalition of forces.
"Fast mobility, rapid deployment of forces in the shortest possible time and the use of heavy fire are among the unique features of the war game," he said on Wednesday.