Greek PM Describes Sanctions against Iran as "Unfair"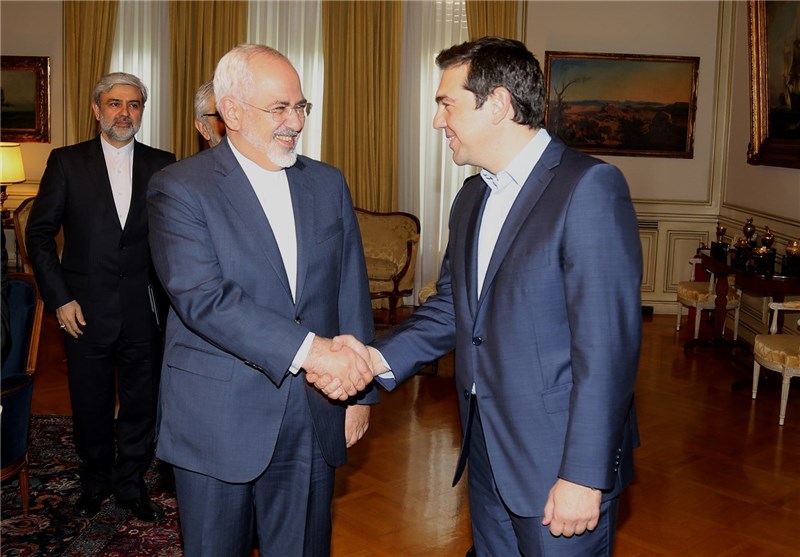 TEHRAN (Tasnim) – Greece's Prime Minister Alexis Tsipras in a meeting with Iran's Foreign Minister Mohammad Javad Zarif described the sanctions imposed against Tehran as "unfair".
At the meeting held in Athens on Friday, Tsipras welcomed the progressive trend of nuclear talks between Iran and the Group 5+1 (the five permanent UN Security Council members plus Germany), and said the settlement of this issue will benefit all countries and result in further regional development and stability.
He described the sanctions against Iran as "unfair", and stated, "We should not miss opportunities for cooperation between the two countries in areas of mutual interest."
Greek Prime Minister also highlighted the importance of Iran's participation in business and energy sectors of Greece, adding that both sides can overcome the current problems by taking simple steps and showing serious resolve.
Zarif, for his part, said that Iran welcomes promotion of ties with Greece in different areas, including economical, agriculture, medical, industrial, trade and banking fields.
He added that a memorandum of understanding (MoU) on comprehensive cooperation between the two countries can help them gain better understanding of the existing capabilities in deepening bilateral ties.
Earlier this year, Iranian President Hassan Rouhani sent a congratulatory message to new Greek Prime Minister Alexis Tsipras, calling for the expansion of ties between Tehran and Athens.
"I hope that, given the existing political will and the abundant opportunities for cooperation between the Islamic Republic of Iran and the Republic of Greece, we would witness the expansion of bilateral relations and international cooperation between the two countries," Rouhani said in the message.