UN Syria Envoy to Visit Damascus
TEHRAN (Tasnim) - UN Syria envoy Staffan de Mistura plans to meet senior Syrian government officials in Damascus in his effort to find common ground among the parties with an interest in ending Syria's civil war, his office said on Sunday.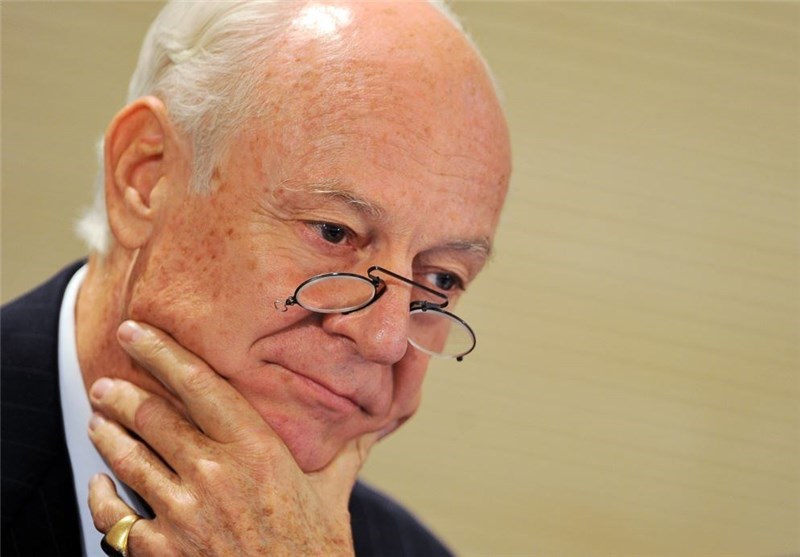 De Mistura began the talks last month saying he expected to meet 40 or more delegations for one-on-one discussions in Geneva, including Syrian officials, opposition and civil society, and representatives of governments in the region and with influence in the conflict.
His office did not say if De Mistura would meet President Bashar al-Assad, nor did it specify exact travel dates, which are always kept confidential for security reasons.
Diplomats said that by summoning people to Geneva, De Mistura would be in control of the process and the talks would be on neutral ground. However, the main Syrian political opposition group refused to come to meet him, inviting him instead to meet them in Istanbul.
Sunday's statement also said De Mistura's series of meetings would continue into July, confirming that the provisional timetable -- with a plan to report back to UN Secretary General Ban Ki-moon at the end of June -- had been extended.
The UN statement said De Mistura would also discuss the humanitarian situation in Syria and ways to increase access to besieged and conflict-affected communities, Reuters reported.
"In his discussions, the Special Envoy plans to convey once again to Syrian officials his deep conviction that no solution to the Syrian conflict can be imposed by force and that an inclusive and Syrian-led and owned political settlement is urgently needed."
The four-year war has killed more than 220,000 people, injured more than 1 million, driven almost 4 million out of the country as refugees and left 12.2 million others in need of humanitarian aid, including 5.6 million children.