Syrian President Raps West's Double Standards on Counter-Terrorism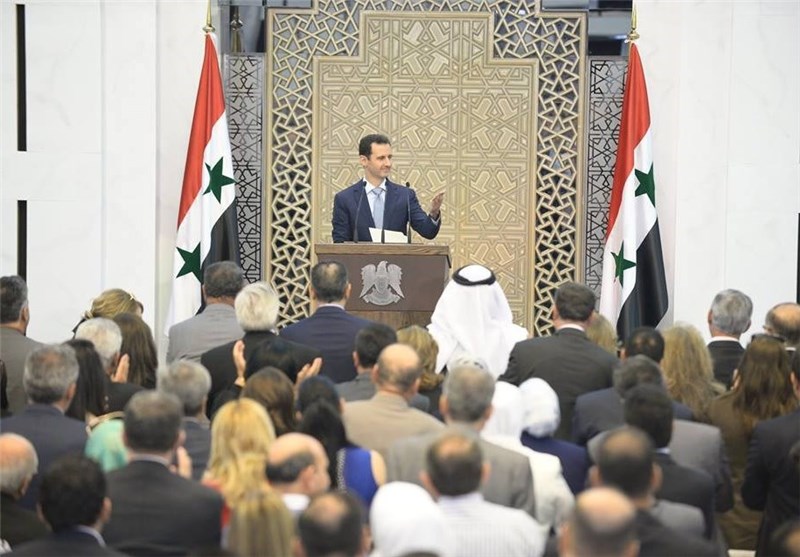 TEHRAN (Tasnim) – Syrian President Bashar al-Assad censured certain western countries for their supports for terrorism inside the Arab country, saying that the West is exporting terrorist groups to the Middle East region.
In the past, the region exported terrorism to the west, but today, it is the West that sends its terrorist groups to the region, Assad said in a speech broadcast by Al Manar TV channel on Sunday.
He further touched upon the West's double-standard policy regarding the fight against terrorism, saying, "The West's approach to terrorism continues to be associated with deception."
When terror groups target the Western countries, they are referred to as terrorists but when they attack Syria they are called "freedom-seekers and revolutionaries", he added.
Syria has been gripped by civil war since March 2011. The country is battling ISIL militants and other terrorist groups on several major fronts across the country.
The US and its regional allies have been supporting the militants operating inside Syria. The militancy by the Takfiri groups has so far claimed the lives of over 230,000 people, according to the so-called Syrian Observatory for Human Rights.
Elsewhere in his remarks, Assad said that he welcomes any positive initiative aimed at ending the ongoing crisis in the country, adding that the Syrian government considers all opportunities to end the crisis because it seeks peace.
He said any political solution to the crisis in Syria should have the fight against terror as its core, adding that any plan which is based on goals other than combating terror will not succeed.
Assad stated that the Syrian government and people have never wanted war and are fighting in a battle which has been imposed on them.
From the beginning of the crisis, Syria has relied on its army, people and some friendly countries, and has not received any support from Western hegemonic countries in the fight against terrorism, Syrian president noted.
"After years of war, the Syrian people are still resilient, [and] sacrificing for the sake of the homeland, and if they had wanted to give up, they would not have waited all this time," the Syrian president said.
President Assad also appreciated the support that Iran, Russia, China and Lebanon's resistance movement, Hezbollah, have provided for the Syrian nation over the past few years of turmoil.