Iran Eyes Joint Investment with Azerbaijan in Energy
TEHRAN (Tasnim) – Iranian President Hassan Rouhani called for cooperation with the Republic of Azerbaijan in oil and gas industries, saying the two neighbors can begin to invest jointly in the Caspian Sea.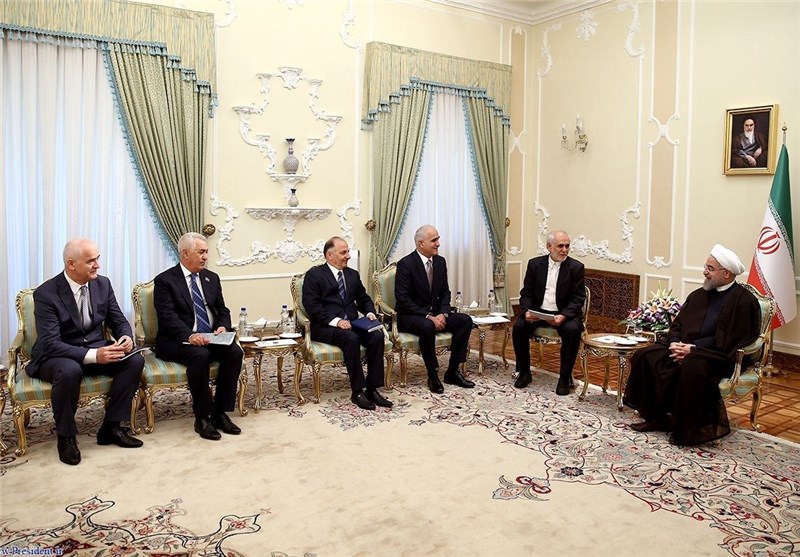 In a Tuesday meeting with Azeri Minister of Economy and Industry Shahin Mustafayev in Tehran, President Rouhani said mutual cooperation in the oil and gas industries can contribute to stronger ties between Iran and Azerbaijan.
"The two countries' joint investment in the Caspian Sea could be an appropriate beginning of joint investments in different oil and gas sectors," the chief Iranian executive noted.
He further highlighted the important role of the International North-South Transport Corridor (NSTC) in the enhancement of the two countries' ties.
President Rouhani hailed Azerbaijan as a gate that links Iran to the Caucasus, adding that Iran could also connect its northwestern neighbor to the rest of the world via the Persian Gulf and the Sea of Oman.
The NSTC is a multipurpose route for the transit of goods between Iran, Russia, Europe, India and Central Asia via shipping lines, railroad and land routes.
The Iranian chief executive also touched on the promising prospect of trade with Iran following the implementation of a nuclear deal between Tehran and the Group 5+1 (Russia, China, the US, Britain, France and Germany), saying "the neighbors, including the Republic of Azerbaijan" have priority over a host of international investors eying Iran's market.
For his part, Mustafayev hailed the conclusion of diplomatic talks over Tehran's nuclear energy program, saying that the agreement would benefit regional and international peace and stability.
He also voiced Baku's determination to develop ties with Iran in diverse fields, including energy, commerce, transportation, industry, agriculture, oil, petrochemical industry and banking.
A high-ranking economic delegation is accompanying the Azeri minister in his visit to Iran.