President: Everyone for Iran Nuclear Deal except Warmongers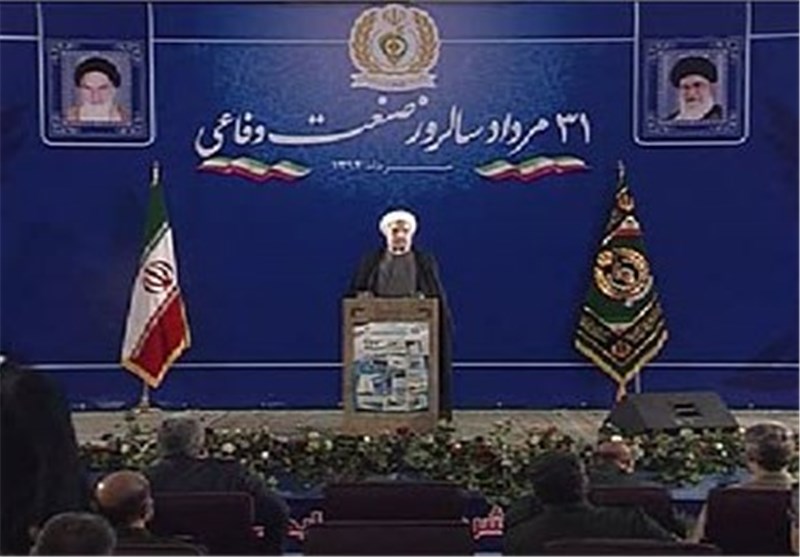 TEHRAN (Tasnim) – Iranian President Hassan Rouhani praised the nuclear agreement recently reached between Tehran and six world powers and said everyone in the world except warmongers in the US and the Zionist regime of Israel are agreed with the deal.
In a speech on Saturday on the occasion of Iran's Defense Industry Day, President Rouhani emphasized that today, the Islamic Republic is in better condition compared to a couple of years ago.
"By our own political power, we reached an agreement, which all countries around the world confirm," he said, adding, "Only the Zionist regime and warmongers in the US are against it."
He further reiterated the peaceful nature of Iran's nuclear energy program, saying that the country has never been after weapons of mass destruction, including nuclear weapons, and that is why the agreement is a good deal.
Iran and the Group 5+1 (Russia, China, the US, Britain, France and Germany) on July 14 reached a conclusion over the text of a comprehensive 159-page deal on Tehran's nuclear program.
The comprehensive deal between Iran and the six powers would terminate all nuclear-related sanctions imposed on Iran after coming into force.
Elsewhere in his remarks, Rouhani emphasized that military power is necessary for the country to promote global peace and detente.
The armed forces should be strengthened to preserve the country's stability and amicable relations with the region and the world, he went on to say.