Iranian Speaker, Spanish Ministers Hold Talks on Bilateral Ties
TEHRAN (Tasnim) – Iranian Parliament Speaker Ali Larijani and a high-ranking delegation from Spain, including three ministers, held talks on ways to boost bilateral relations between the Islamic Republic and the Western European country in various spheres.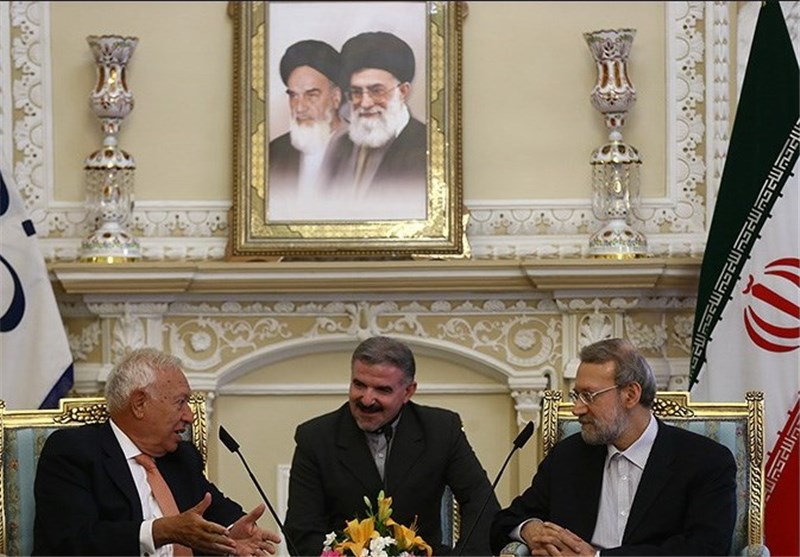 In the meeting with Spanish Foreign Minister Jose Manuel Garcia-Margallo, Industry, Energy and Tourism Minister Jose Manuel Soria and Public Works Minister Ana Pastor held in the Iranian capital on Monday afternoon, Larijani emphasized that the Iranian people do not have a negative view of Spain.
"The positive background can be properly utilized for cooperation in all areas of mutual interest," he noted.
The Iranian speaker further pointed to the great potentials of the two countries to boost trade and economic ties, saying that Iran and Spain can boost mutual cooperation in various areas, including tourism, energy, agriculture, and rail transportation.
During the meeting, the Spanish foreign minister said his country has always welcomed cooperation with Iran in diverse areas.
Garcia-Margallo further emphasized that in the new atmosphere created after the nuclear agreement between Iran and six world powers, the grounds for further Tehran-Madrid cooperation have been paved.
The remarks come against the backdrop of a new wave of renewed interest in ties with Iran after Tehran and the Group 5+1 (Russia, China, the US, Britain, France and Germany) on July 14 reached a conclusion over the text of a comprehensive 159-page deal on Tehran's nuclear program.
The comprehensive nuclear deal between Iran and the six powers would terminate all nuclear-related sanctions imposed on Iran after coming into force.
Experts believe that Iran's economic growth would rise remarkably after the final nuclear deal takes effect.