Catalan Independence Would Mean Exit from Euro Zone: Bank of Spain
TEHRAN (Tasnim) – Spain's Catalonia region will be automatically booted out of the euro zone and its banks will lose access to European Central Bank facilities if it becomes independent from the rest of country, the Spanish central bank chief said on Monday.
September, 21, 2015 - 18:46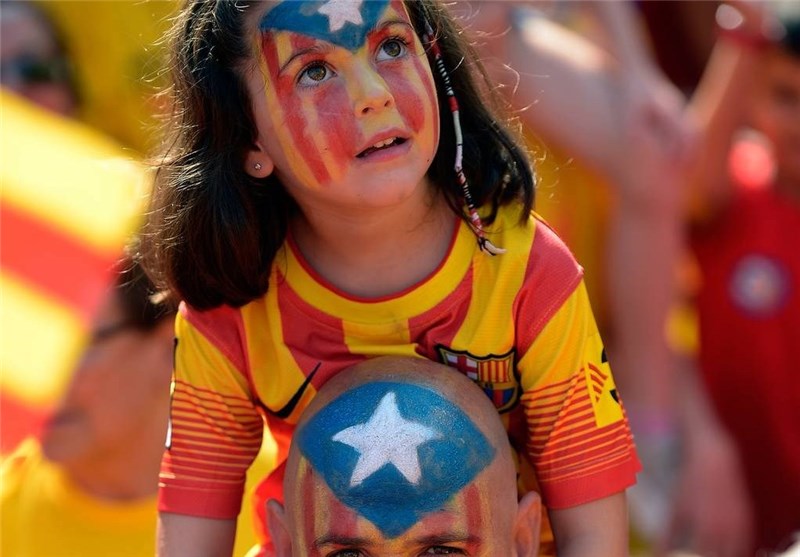 Polls suggest Catalan separatists are on track to win a small majority of seats in the Catalan Parliament at a regional election, the minimum needed to launch a "road map" to secession within 18 months, according to Artur Mas, president of the affluent region in Spain's northeast.
"The exit from the euro is automatic, the exit from the European Union is implied," Bank of Spain chief Luis Maria Linde said during an event in Madrid, Reuters reported on Monday.
Uncertainties and tensions over the election are affecting Catalan and other Spanish banks, Linde said, echoing worries by major lenders which said on Friday a split with Catalonia would threaten financial stability in the region.
Scottish voters faced similar warnings of a possible exit from the whole EU if they had chosen independence from Britain in a referendum a year ago. That vote, which the pro-Britain side won by a 10 percent margin, but which has been followed by a rise in separatist sentiment, was closely watched in Spain.
Asked what was the probability of a freeze on bank deposits if Catalonia declared itself independent, Linde said this was highly unlikely although there was a risk.
"It's clear that if there are serious tensions there could be a freeze on deposits as has been seen in Latin America and in Greece. In that respect it's a possibility, a risk," he said.
Linde said the ECB's monetary stimulus policy, which is expected to spend more than a trillion euros on bonds to counter a potentially deflationary spiral, was working and would continue until inflation in the bloc was nearer ECB targets.
"The stimulus programme is working very well and, right now, there is no reason to change it. As long as the inflation target of near 2 percent is not reached, the programme will continue."
On concerns surrounding Spain's next national election, due by the end of the year, Linde said he was not worried about who won as long as the new government stuck to certain policies.
"It would be good to maintain some policies such as the fiscal adjustment or fiscal consolidation, so that public debt in relation to gross domestic product doesn't continue to rise."
Spain's efforts to reduce one of the euro zone's highest public deficits has been central to regaining market confidence since 2012 when soaring debt yields pushed the country close to requesting a sovereign bailout.
Alternative parties such as left-wing Podemos and business-friendly Ciudadanos have gained popularity as voters rally against Brussels-led austerity policies and unpopular pro-banking measures after a prolonged slump.
Linde also said that normalisation of monetary policies in the United States and Britain had been delayed due to a global growth slowdown that had been worse than expected.
"The (US Federal Reserve) wanted to begin a process of rate rises, given lower unemployment, but inflation far from reference levels and a weak external environment has made that difficult," he said.