Assad Lauds Iran, Russia's Backing for Syria
October, 15, 2015 - 16:07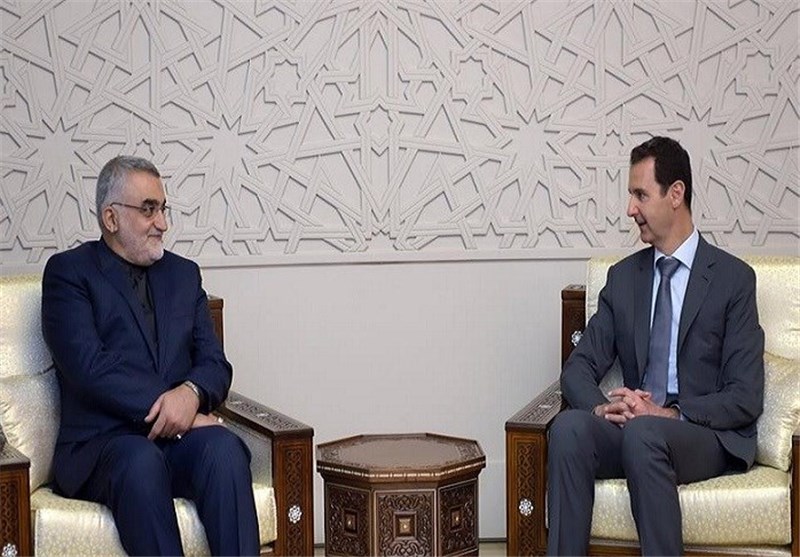 TEHRAN (Tasnim) – Syria's President Bashar al-Assad hailed allies Iran and Russia for their supports for the Arab country in the fight against terrorism.
Syrians applaud Iran and Russia for their cooperation in the war against terrorism and for their efforts to strengthen the pillars of Syria's resistance, President Assad said on Thursday, in a meeting with Chairman of the Iranian Parliament's National Security and Foreign Policy Commission Alaeddin Boroujerdi in Damascus.
Assad also noted that the outcome of such anti-terror efforts and cooperation will serve the interests of all nations in the region and in the world.
The senior Iranian lawmaker is in Syria for talks with the crisis-hit country's officials. He earlier held a meeting with Syrian Deputy Foreign Minister Faisal al-Meqdad.
Tehran has already described its unwavering support for Syria in the fight against terrorism as a "strategic decision."
The Arab country has been entangled in civil war since March 2011. The ISIL Takfiri group now controls parts of it, mostly in the east.
In the past four and half years, more than 240,000 people have died in Syria -overwhelmingly civilians- and around 4 million Syrians are now refugees in other countries. Around 8 million others have been displaced internally.