Kurdish-Led Troops Retake Strategic Highway in Northern Iraq From ISIL
TEHRAN (Tasnim) – Kurdish forces aided by thousands of lightly armed Yazidi fighters captured a strategic highway on Thursday in northern Iraq in the early stages of an offensive to reclaim the town of Sinjar from ISIL, which seized it last year and enslaved thousands of Yazidis.
November, 12, 2015 - 17:29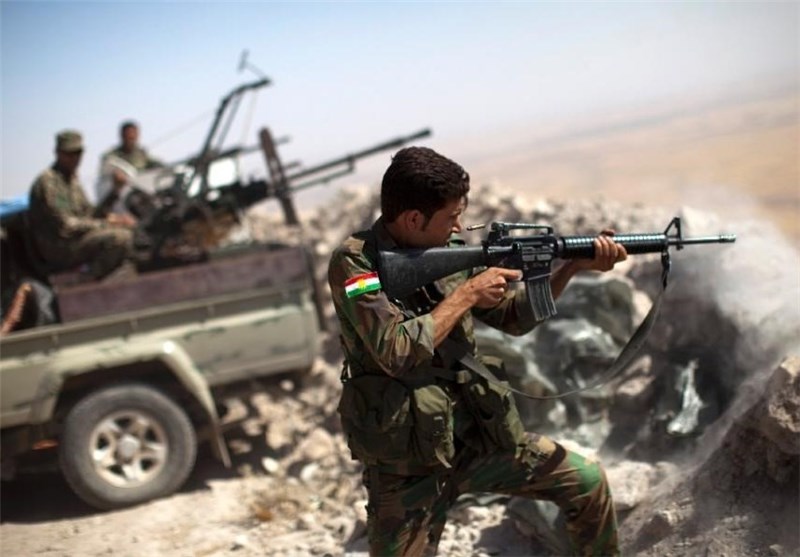 As many as 7,500 Kurdish peshmerga fighters were moving on "three fronts to cordon off Sinjar City, take control of ISIL's strategic supply routes, and establish a significant buffer zone to protect the city and its inhabitants from incoming artillery," the security council of the Kurdish autonomous region in Iraq said in a statement.
Describing the unfolding battle, Kurdish officials said that peshmerga forces had taken the village of Gabara, west of Sinjar, and had cut the supply line, Highway 47, the major east-west road that connects Syria to Mosul, Iraq's second largest city and serves as a lifeline for ISIL.
"We cut the road between Syria and Iraq three hours ago, at around eight in the morning," said Moslum Shingal, the nom de guerre of a Kurdish commander on the mountain who was reached by telephone. Gaining control of the road could hamper ISIL's movement of fighters, fuel and supplies within its self-declared caliphate and force the militants to resort to less efficient smuggling routes.
As the campaign got underway, long columns of peshmerga vehicles, including pickup trucks, sport utility vehicles and a small number of armored vehicles, snaked their way across Mount Sinjar as airstrikes boomed in the distance.
Some of the fighters walked alongside the vehicles, headed for the front in Sinjar. Along the way, a suicide car bomb was blown up by a peshmerga antitank missile before the driver could reach his target, The New York Times reported.
The battle plan called for the peshmerga, joined by Yazidi forces, to sweep down from Mount Sinjar to attack militants of ISIL on multiple fronts. Kurdish officials said there could be as many as 700 ISIL fighters in and around Sinjar, including foreign extremists.
"We have made our plans, but not everything goes according to plan," Maj. Gen. Aziz Waisi, the commander of the Zeravani Force, which is leading one of the prongs of the Kurdish offensive, said earlier. "It is war, we have a determined enemy and there are always surprises from ISIL."
The operation holds out the possibility of progress along a new front in northern Iraq.
The aim is to add pressure on ISIL militants who are being pressed militarily in northeast Syria and Iraq. They are currently partly encircled in Ramadi, the capital of Anbar Province in Iraq, and were recently evicted from Baiji in northern Iraq, the site of a strategic oil refinery.