Iran, UN Discuss Yemen Peace Efforts
TEHRAN (Tasnim) – Iran's Deputy Foreign Minister for Arab and African Affairs Hossein Amir Abdollahian and UN Special Envoy for Yemen Ismail Ould Sheikh Ahmed conferred on the latest developments in Yemen and an upcoming round of talks in Switzerland for ending conflicts in the Arab country.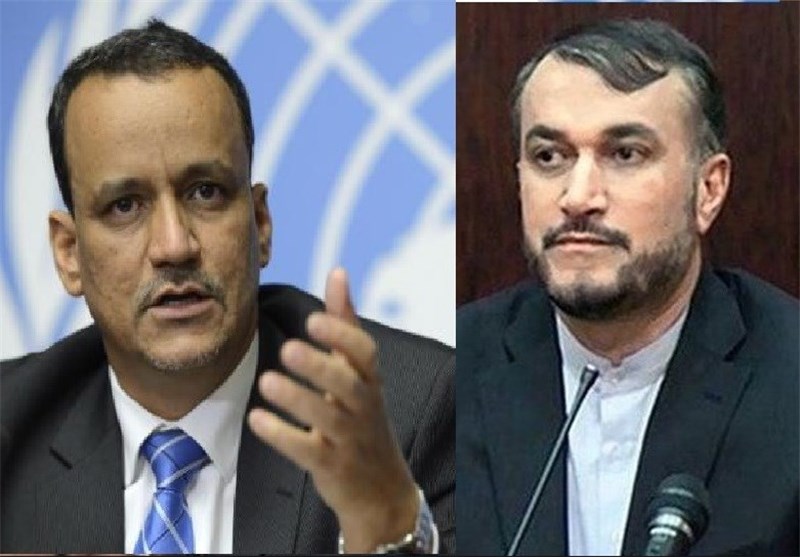 In a telephone conversation on Thursday, the UN envoy hailed Iran's role in helping the political settlement of the Yemeni crisis, and expressed optimism about a ceasefire in Yemen and the start of UN-sponsored peace talks in Geneva.
The Iranian diplomat, for his part, reiterated that the crisis should be resolved through political processes, not militarily.
"Tehran will continue its efforts to urge authentic and effectual Yemeni-Yemeni talks," Amir Abdollahian stressed.
Back on Monday, Ould Sheikh Ahmed said Yemen's warring parties are expected to observe a ceasefire and start UN-sponsored peace talks in Switzerland from December 15 in a bid to end months of fighting that have killed nearly 6,000 people.
Previous UN-mediated negotiations to end the conflict through dialogue have failed as battles rage across Yemen and Saudi-led warplanes keep bombing Yemeni cities.
Since March 26, Saudi Arabia and some of its Arab allies have been launching deadly airstrikes against the Houthi Ansarullah movement in an attempt to restore power to the fugitive former President Abd Rabbuh Mansour Hadi, a close ally of Riyadh.