Amnesty Calls for Urgent Investigation into Nigeria Massacre
December, 16, 2015 - 17:37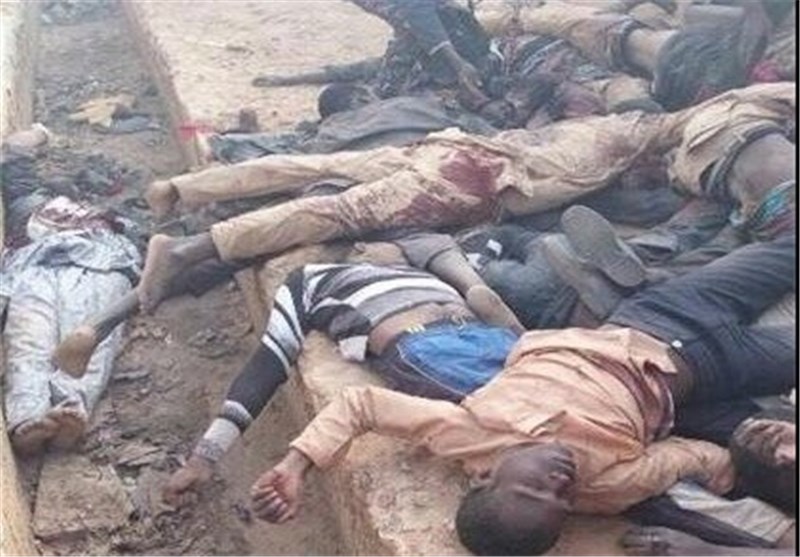 TEHRAN (Tasnim) - Human rights advocates, including Amnesty International called for an investigation following the Nigerian army's raid on a Shiite community in which hundreds of people were reportedly killed.
Details of the weekend violence in Zaria have been slow to emerge, with the three attacked areas of the northern town on lockdown as late as Tuesday, with no one allowed to enter or leave.
Amnesty International said in a statement late Tuesday that the shooting of members of the Shiite group in Zaria "must be urgently investigated ... and anyone found responsible for unlawful killings must be brought to justice."
"Whilst the final death toll is unclear, there is no doubt of that there has been a substantial loss of life at the hands of the military," said MK Ibrahim, director of Amnesty International, Nigeria.
The bloodshed was yet another blow to Africa's most populous nation, already beset by a 6-year-old insurgency waged by Boko Haram, a violent terrorist group which is at odds with the Shiites and others who oppose its extremist views.
Spokesman Ibrahim Musa of the Shiite Islamic Movement in Nigeria said soldiers on Monday carried away about 200 bodies from around the home of the head of the movement, Ibrahim Zakzaky — who was himself badly wounded and whose whereabouts have not been disclosed by the authorities — and hundreds more corpses were in the mortuary. Human rights activists said hundreds of people, perhaps as many as 1,000, were killed.
The army accused members of the movement of having tried to assissinate Nigeria's army chief. Islamic Movement has emphatically denied the charge.
In a statement Monday, the army said there was "loss of lives as a result of the Shiite group members blocking roads and not allowing other passers-by to go about their lawful businesses and activities," and added that "as soon as order is restored ... the police will conduct an enquiry and the public will be informed."
Chidi Odinkalu of the Nigerian Human Rights Commission called the attacks "a massacre."
Odinkalu and other human rights activists said there are hundreds of bodies at the mortuary of the Ahmadu Bello University Teaching Hospital on the outskirts of Zaria.
Outraged Nigerians took to social media to condemn "trigger-happy troops" and "extra-judicial killings."
Iran has condemned the killings. Iranian President Hassan Rouhani called Nigerian President Muhammadu Buhari. Iran state TV said Rouhani told Buhari he expects the Nigerian government to compensate families of the dead and injured victims.
Hundreds of Shiites protested in front of the Nigerian embassies in the Iranian and Indian capitals on Tuesday.
The Shiites two weeks ago suffered a suicide bombing in a procession that killed 22 people. Boko Haram, a Salafist group, claimed responsibility for the attack.