Iran Not Interested in Continued Tension with Neighbors: Rouhani
TEHRAN (Tasnim) – Iranian President Hassan Rouhani stressed that the country does not like to have tense ties with Muslim neighboring countries, but if they continue fanning the flames of such tensions, Tehran would show appropriate reaction.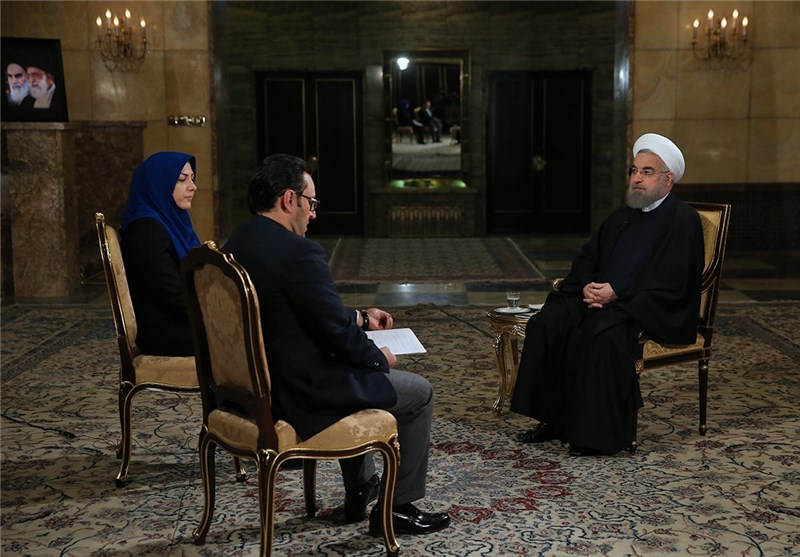 "We do not like tension with our neighbors and Islamic states," the Iranian president said in a televised interview with IRIB on Tuesday night.
"Their behavior was very bad, and was neither compatible with good neighborliness nor with being a Muslim or with the history of the two countries," Rouhani said, alluding to the recent tension between Iran and Saudi Arabia.
"We witnessed immaturity in certain countries, but if they stop raising tensions one day and intend to compensate, I think the (Iranian) nation is mature enough to forgive them," he added.
However, Rouhani warned, if they want to continue fanning the flames of tensions, it would first be against their own interest, and if necessary, Iran would show decisive reaction.
"If a country wants to harm our interests, we would respond, and such response would be decisive and punitive," the Iranian president went on to say, expressing the hope that the tension would not go that way.
Tehran is not looking for domination over the Middle East, Rouhani stressed, adding that Iran wants a strong region where all countries are in interaction with each other.
Tensions ran high between Iran and Saudi Arabia in recent weeks mainly due to Riyadh's execution of prominent Shiite cleric Sheikh Nimr al-Nimr, and a subsequent attack by outraged Iranian protesters on the Saudi embassy in Tehran, which resulted in the Arab country's decision to sever its ties with the Islamic Republic.
On January 2, Saudi Arabia announced that it has executed Sheikh Nimr, among dozens of others. The execution ignited widespread international condemnation, from both political and religious figures.
The next day, furious demonstrators in the Iranian cities of Tehran and Mashhad stormed Saudi Arabia's diplomatic buildings in protest at the execution of Sheikh Nimr.
Although Iranian officials criticized the embassy attack and police arrested dozens involved, Saudi Arabia cut off diplomatic relations with the Islamic Republic.