French Government Proposes to Extend State of Emergency
TEHRAN (Tasnim) – France's government called for a three-month extension of the state of emergency that has been declared after Nov. 13 deadly attacks in Paris.
February, 03, 2016 - 16:49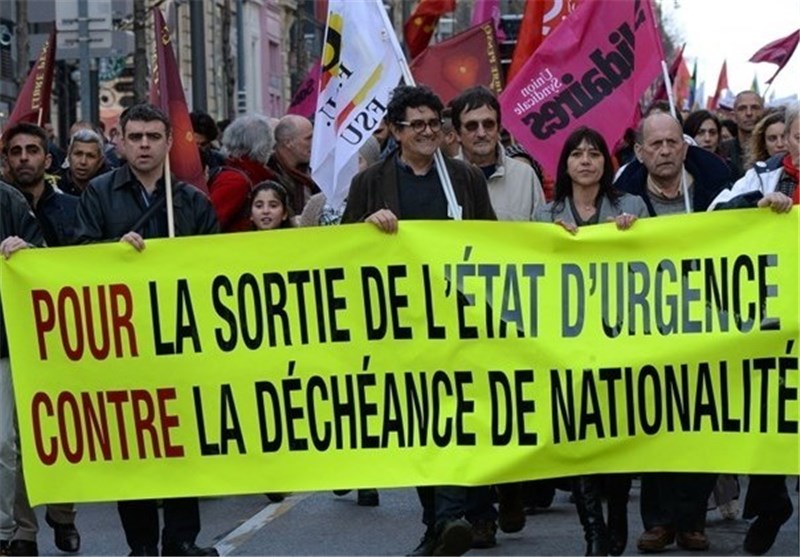 The measure proposed Wednesday in a Cabinet meeting now requires parliament's approval.
The state of emergency has already been extended once and was scheduled to end on Feb. 26. It expands police powers to carry out arrests and searches and allows authorities to forbid the movement of persons and vehicles at specific times and places.
In a written statement, President Francois Hollande said a three-month extension was justified by the need to face the "terrorist threat," as reported by the Associated Press.
The move comes despite demonstrations in Paris on Saturday protesting the proposal. Police said 5,000 people took part in the demonstration under heavy rain. Organizers had a different account saying about 20,000 people attended the public protest.
That proposal has already triggered the resignation of Justice Minister Christiane Taubira, who stood down in protest over the plan this week after the reforms were presented to parliament.
The French parliament is due to debate the state of emergency in the coming days as President Francois Hollande seeks parliamentary approval to extend the current three-month measure.
The Senate is to vote on the proposal on February 9, followed by a vote in the National Assembly on February 16.
The state of emergency was introduced following the Paris attacks in mid-November that left 130 people dead.