DM Urges Iran, Russia Cooperation to Uproot Terrorism in Region
February, 17, 2016 - 13:18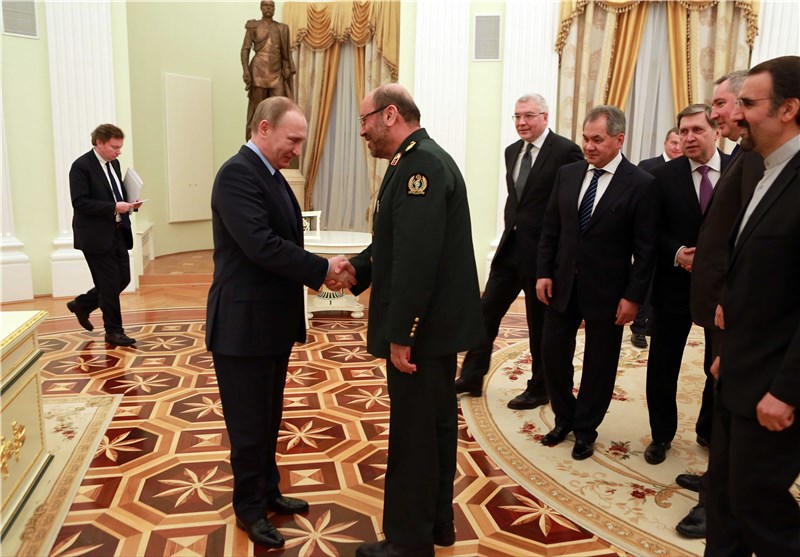 TEHRAN (Tasnim) – Iranian Defense Minister Brigadier General Hossein Dehqan called for closer cooperation between Tehran and Moscow to eradicate terrorist groups in the Middle East region.
Speaking at a meeting with Russian President Vladimir Putin in Moscow on Tuesday, Dehqan praised Putin's strategic and crucial decisions to help resolve complicated problems in the region, including Syria.
He was referring, among other things, to Russia's aerial support for the Syrian government forces in their fight against foreign-backed terrorists in the Arab country.
"We should uproot terrorism in the region through close cooperation and coordination," the Iranian defense minister added.
He further highlighted the determination of the two countries' leaders to deepen relations in various areas, saying that such ties can be a model for other regional countries.
In the one-hour meeting, Putin welcomed closer defense and security relations between Iran and Russia, saying they are in line with the two countries' interests.
He also described Tehran-Moscow strategic cooperation to confront and counter regional crises as important.
Syria has been gripped by civil war since March 2011 with Takfiri terrorists from various groups, including Daesh, currently controlling parts of it.
Since late September 2015, Russia has been carrying out bombings against Daesh terrorists in Syria, after Russia's parliament granted President Putin authorization to deploy the country's air force abroad.
During nearly five years of conflict, more than 260,000 people have died in Syria -overwhelmingly civilians- and around 4 million Syrian people are now refugees in other countries. Around 8 million others have been displaced internally.