Tehran, Baku Resolved to Boost Anti-Terror Cooperation
TEHRAN (Tasnim) – The presidents of Iran and the Republic of Azerbaijan reiterated their determination to promote mutual cooperation in the fight against terrorism.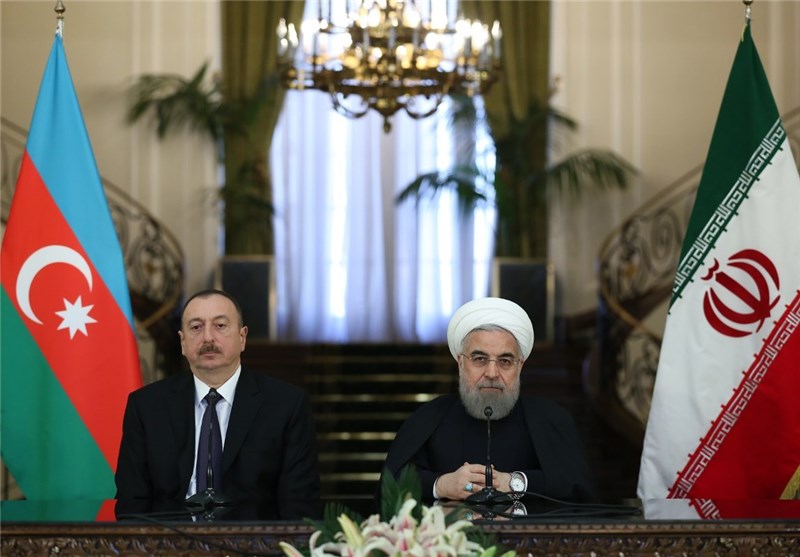 Iranian President Hassan Rouhani and his Azeri counterpart Ilham Aliyev, who arrived in Tehran on Tuesday morning, held a joint press conference to give a description of the 11 agreements signed between the two countries prior to the conference.
According to President Rouhani, Tehran and Baku are determined to enhance cooperation in the battle against terrorism in the region.
He also said that constructive negotiations were held on closer political, economic and cultural relations, including joint projects on railroad transportation, extraction from joint oil and gas fields in the Caspian Sea, and investment in the free-trade zones of the two countries.
Aliyev, for his part, underscored that stronger ties between Iran and Azerbaijan, as in the fight on terrorism, will contribute to regional peace and stability.
Given the historical and cultural bonds between Tehran and Baku, their relations have turned into strategic ties, he added.
The Azeri president also noted that the newly-signed agreements define the prospect of future cooperation between the two neighbors.
Iran and Azerbaijan have accelerated efforts in recent years to forge closer partnership in various fields, from fighting against terrorism to the exchange of electricity or gas deals.
Meanwhile, a lasting nuclear deal between Iran and six world powers that terminated sanctions on Iran has also paved the way for Tehran-Baku interaction to thrive.
Known as the Joint Comprehensive Plan of Action (JCPOA), the nuclear accord came into force on January 16.