Iran's FM Zarif Meets Brunei's Crown Prince
TEHRAN (Tasnim) – Iranian Foreign Minister Mohammad Javad Zarif held a meeting with the Crown Prince of Brunei Al-Muhtadee Billah in the Southeast Asian country.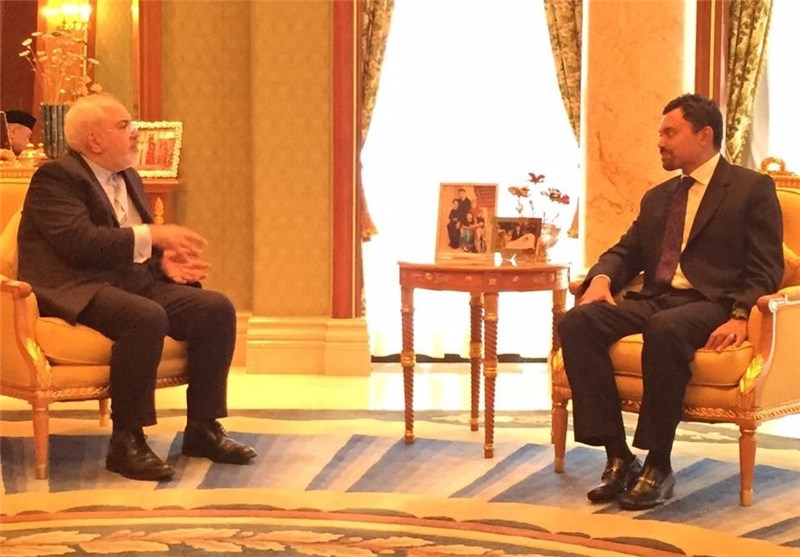 During the meeting held in the Brunei's capital of Bandar Seri Begawan, the two sides conferred on the fields in which the two sides can promote their mutual cooperation.
In his one-day stay at the tiny Island, Zarif is scheduled to meet with Sultan of Brunei Darussalam Hassanal Bolkiah, Minister of Primary Resources and Tourism Haji Ali bin Haji Apong, Minister of Foreign Affairs and Trade Lim Jock Seng, and Minister of Energy and Industry Haji Mohammad Yasmin bin Haji Umar, Iran's Ambassador to Brunei Abdolhamid Fekri earlier announced.
Brunei is a tiny nation on the island of Borneo, in 2 distinct sections surrounded by Malaysia and the South China Sea.
Before arriving in Bandar Seri Begawan, Zarif also paid official visits to Indonesia and Singapore.
He is later slated to travel to Thailand, Australia and New Zealand afterwards as part of an ongoing 11-day tour of southeastern Asia and Oceania.