Iran, Bulgaria Ink Cooperation Deals
TEHRAN (Tasnim) – Ministers from Iran and Bulgaria signed multiple agreements on cooperation between the two countries in a broad range of fields, from energy to tourism.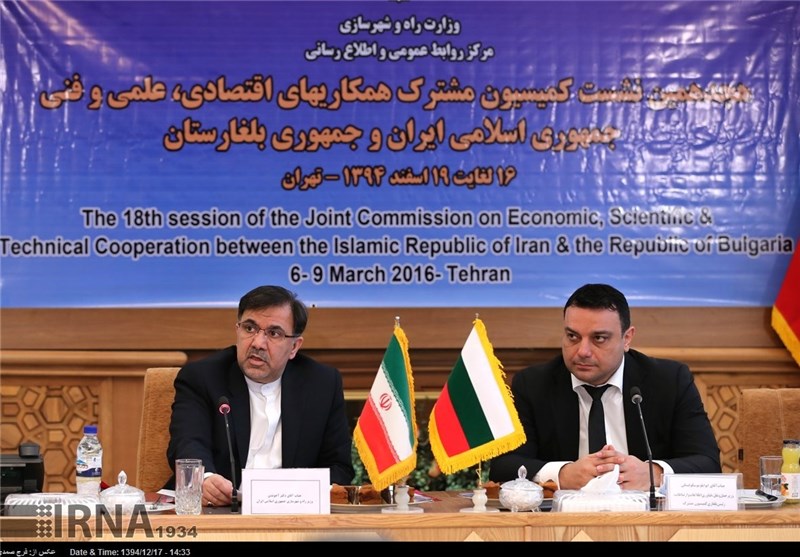 Iran's Minister of Road and Urban Development Abbas Akhoundi and Bulgaria's Minister of Transport Ivaylo Moskovski signed the agreements in Tehran on Tuesday, at the conclusion of the 18th session of the Joint Commission of Iran-Bulgaria Economic Cooperation.
Based on the accords, Tehran and Sofia will launch and promote cooperation in areas such as civil construction, banking, insurance, customs service, tobacco trade, establishment of a multilateral transportation route from the Persian Gulf to the Black Sea, shipping and railroad industry, meteorology, telecommunication, joint exhibitions of agriculture and food industry, tourism, and academic research.
According to Akhoundi, companies from the two countries are also scheduled to cooperate in the oil and gas industry.
Bulgaria is going to help transit Iran's gas supplies to Europe, the minister said, adding that a joint task-force will set the stage for closer mutual cooperation on energy, hydroelectric power plant and nuclear safety.
Moskovski, for his part, expressed the hope that Bulgaria would become a gateway for Iran to Europe, and Iran would also pave the way for Bulgaria's access to East Asia.
There has been growing enthusiasm for closer ties with Iran since implementation of the Joint Comprehensive Plan of Action (JCPOA), a lasting nuclear deal between Tehran and the Group 5+1 (Russia, China, the US, Britain, France and Germany).
The deal took effect on January 16, terminating all nuclear-related sanctions on Iran.
Back in December 2015, Bulgaria's Foreign Minister Daniel Mitov said the JCPOA will have far-reaching effects on the betterment of relations between Iran and European states, including his own country.
He had described Iran as the "closest" Middle Eastern country to Bulgaria given the two nations' age-old relations and economic cooperation.