Iran Turns Threats into Opportunities: IRGC Commander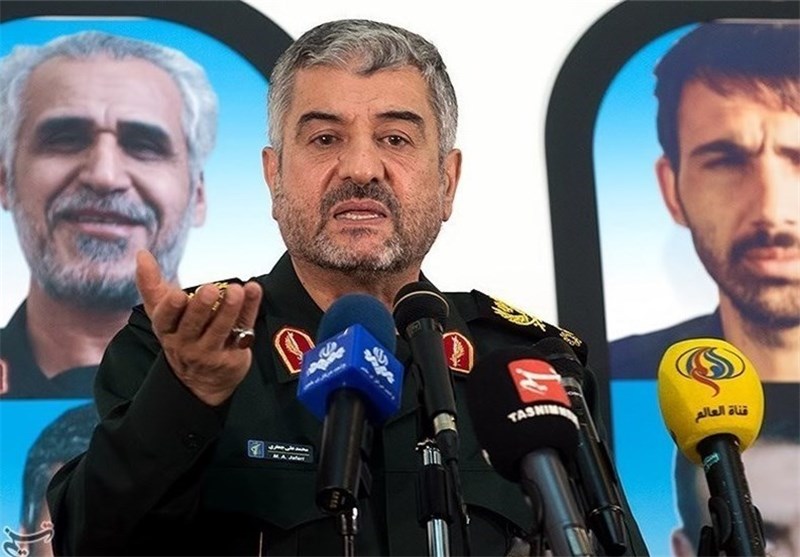 TEHRAN (Tasnim) – Commander of the Islamic Revolution Guards Corps (IRGC) Major General Mohammad Ali Jafari underlined that enemies' plots to undermine Iran's Islamic Establishment have not only been thwarted but also turned into opportunities for the country.
"Although enemies invaded the Islamic Iran under flimsy excuses during years of sacred defense (the Iraqi imposed war on Iran in the 1980s), their main goal was to prevent the development and spread of the Islamic Revolution in the world," Major General Jafari said in a speech on Tuesday.
He added that the confrontation between the Islamic Republic and the world's hegemonic and arrogant powers has been continuing until today.
The IRGC commander emphasized that the nature of threats posed by the hegemonic system to Iran has covered various political, cultural and economic areas.
"Thank God, military and security threats against the Islamic Republic's holy Establishment have turned into opportunities and led to the spread of discourse of the Islamic Revolution in the world," Major General Jafari noted.
Earlier last month, Iranian people from different walks of life, carrying flags and banners in support of the Islamic Republic, poured into the streets in their millions to hold nationwide rallies marking the 37th anniversary of the victory of the 1979 Islamic Revolution.
The Islamic Revolution victory, seen as the most important milestone in Iran's recent history, liberated the country from the yoke of the hegemonic powers -with the ousted Shah as their stooge- and established a new political system based upon Islamic values and democracy.
The Iranian nation toppled the West-backed Pahlavi regime 36 years ago, ending 2,500 years of monarchic rule in the country.