Iran to Continue to Expand Defense Capabilities: President Rouhani
TEHRAN (Tasnim) – Iranian President Hassan Rouhani emphasized that the Islamic Republic will never back down on its defensive stance and will continue to boost its defense capabilities.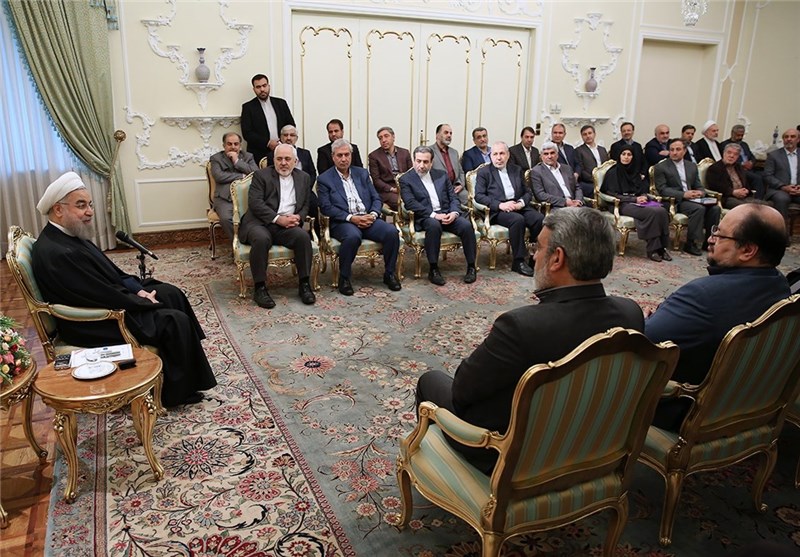 "We'll pursue any measure to boost our defense might and this is a strategic policy," Rouhani said in the first cabinet meeting of his administration in the Persian New Year (started March 20) in Tehran on Sunday.
He added that Tehran should be wary of not providing its enemies with any "excuse" to abuse the country's capabilities.
Rouhani's remarks came after the US Treasury Department on Thursday blacklisted two Iranian companies for supporting Iran's missile program. It also sanctioned two British businessmen it said were helping an airline used by the Islamic Revolution Guards Corps (IRGC).
The new US sanctions against Iran came following the successful test-firing of ballistic missiles by the IRGC earlier this month, which Iran insists are rightful and aimed at enhancing the country's defense and deterrence capabilities.
The IRGC forces test-fired two types of Qadr ballistic missiles during the 'Might of Velayat' drills in north of Iran on March 9.
Elsewhere in his remarks, the Iranian president referred to a lasting nuclear deal finalized in July 2015 between Tehran and six world powers, saying Zionists in the US, Europe, and the Middle East are seeking to sabotage the Joint Comprehensive Plan of Action (JCPOA).
The JCPOA officially took effect on January 16 and terminated all nuclear-related sanctions on Iran.