Larijani Calls for Closer Economic Cooperation between Iran, Malaysia
TEHRAN (Tasnim) – Iranian Parliament Speaker Ali Larijani hailed similar stances of Tehran and Kuala Lumpur on international issues, calling for efforts to boost cooperation between the two Asian countries in all spheres, economy in particular.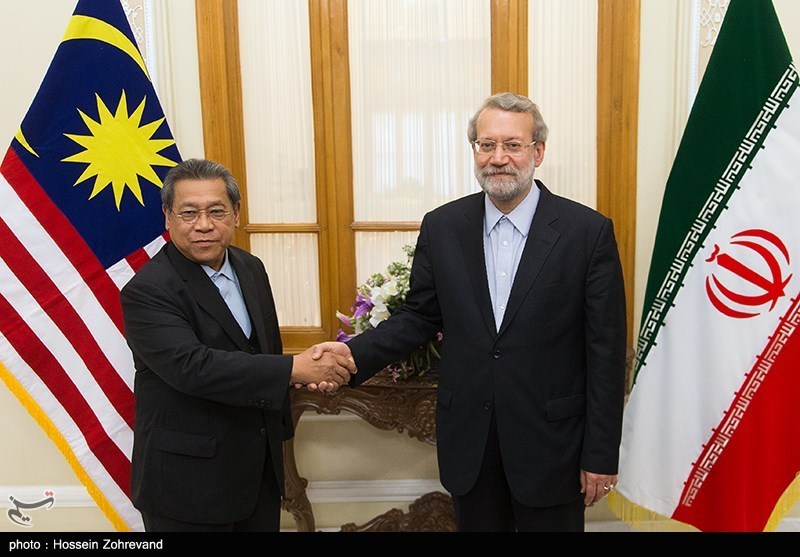 Speaking at a joint press conference with his Malaysian counterpart Tan Sri Pandikar Amin Mulia in Tehran on Tuesday evening, Larijani described Malaysia as a major Islamic country, saying that Iran attaches great significance to the Southeast Asian country.
"Iran has friendly and brotherly ties with the Malaysian parliament," he said, noting that there have been negotiations between the two sides on various issues, including parliamentary cooperation and economic ties.
Noting that Iran and Malaysia have similar viewpoints, Larijani called for closer cooperation between the two countries in all areas.
The Malaysian parliament speaker, for his part, emphasized that Kuala Lumpur is fully aware of Tehran's important role in the Middle East, calling for closer bilateral economic ties.
He added that the Malaysian government would pave the ground for improving trade cooperation with Iran.
Mulia arrived in Tehran on Tuesday at the invitation of Larijani to hold talks with senior Iranian officials on issues of mutual interest.