Turkey's Syria Operation Could Spark Escalation: Hollande
TEHRAN (Tasnim) – French President Francois Hollande warned Tuesday that "contradictory interventions" by Turkish and Russian forces in Syria could spark an escalation of the conflict.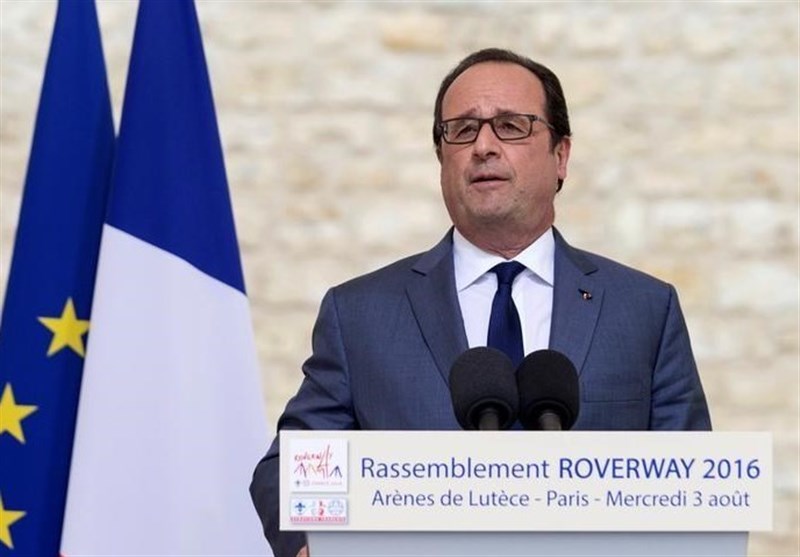 "These multiple, contradictory interventions carry the risk of a wider conflagration," Hollande told a meeting with the diplomatic corps in France, calling for an "absolutely urgent" halt to fighting after Turkey attacked a US-backed Kurdish militia in Syria.
"Syria has been living a terrible tragedy for the past five years," Hollande said, according to AFP.
He said the country's shattered second city Aleppo had endured a "large-scale humanitarian catastrophe".
He said it was "perfectly understandable" for Turkey to seek to defend itself against Daesh "after the attacks that this country suffered, and to control its border" with Syria.
However, Hollande said Turkey was now also carrying out "actions against Kurds who are themselves fighting Daesh."
Turkish forces last week launched a two-pronged operation against Daesg and Kurdish fighters from the People's Protection Units (YPG) inside Syria.
The military action began after 54 people were killed in a weekend suicide attack in the city of Gaziantep near the Syrian border that was blamed on Daesh.
The YPG is the main component of the Kurdish-led Syrian Democratic Forces, which have been fighting IS in northern Syria.
The Britain-based Syrian Observatory for Human Rights said at least 40 civilians were killed on Sunday in Turkish shelling and airstrikes, claims that were strongly rejected by Ankara.
Ankara said it killed 25 Kurdish "terrorists" in strikes on YPG positions that day -- meaning the two US-backed partner forces were fighting each other.